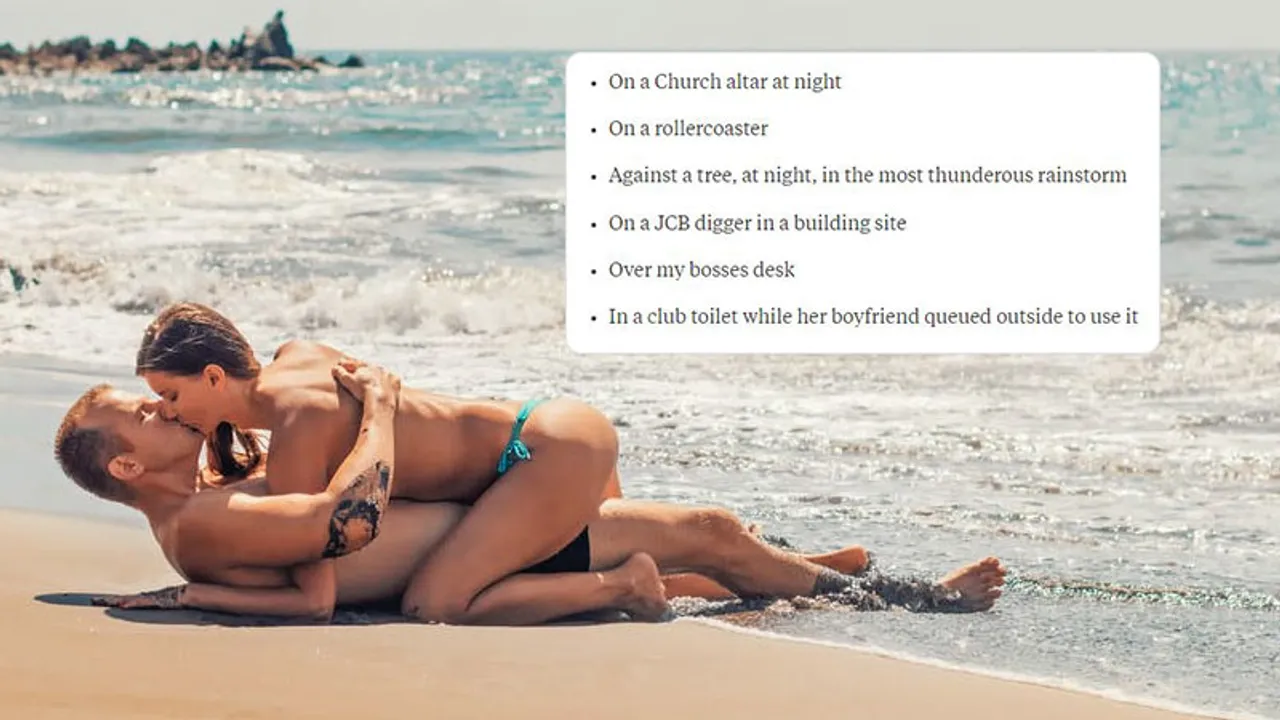 Imagine this, a place where you can anonymously answer the weirdest, most awkward, explicit and intimate details of your life with strangers on the internet without any repercussions! Yeah that's what these guys did on Quora when someone asked them about the ' Weirdest Places you have had sex? '
Now as I scrolled down, I knew that I was going to be surprised but boy did I underestimate the degree of it. When someone asks you "Hey what are the weirdest places you have had sex?", these are not the kind of answers one expects! While 'doing it' in a car, and even movie theatres could be a stretch to imagine and extremely adventurous, these guys have redefined it completely.
Don't trust me? Read this.
1. INSIDE A MOSQUE!
"Around 2:00am, every one was either asleep or praying so hard they didn't look up. I sneaked there about one hour before her and we spent the hour chatting until she followed me. We were so scared for the first 20 minutes that we just sat there, then we kissed and ended up having sex.
2. INSIDE THE CHURCH!
"The next day I showed him around our church building, and locked us into the sanctuary and shared a fantasy I'd had during those long hours I'd had to spend sitting in the pew staring at the altar. Oh yes. We carefully removed the cross, the candles, etc., and did it, on the altar. After that, I could always have a little smile whenever I went into the church."
3. AT JEWISH CAMP..UNDER A TENT..FULL OF YOUNG GIRLS!
"They didn't have cabins they had large wooden bases that were covered with huge canvas tents and they housed 8 people. One night I snuck out of my tent to the girls side of camp to the tent she stayed in. We couldn't do it in her tent because she was staying in a tent full of young girls. We got the smart idea to crawl under the wooden base of the tent, right under where all the girls were sleeping, and we did it right there…"
4. WHAAAAT!?
I received oral sex standing in a hallway from a girl in an office. The hallway had others standing chatting but they could not see into the office doorway. If they shifted even a yard to the left they would have seen her on her knees. I had to pretend I was actually chatting to her so the others saw me saying..."yeh it was a good weekend, what did you do? Oh right yeh...botanical gardens, I bet that was nice...etc..."
5. BLINDFOLDED. TIED TO A CHAIR. WITH HIS MOTHER IN THE NEXT ROOM!
"I think the ultimate weird though was blindfolded, tied to a wooden chair and my 18yo girlfriend was riding me (quietly). Just as the door opened with my mum standing there I heard a crack and the chair broke. Using all of my core muscles to hold me and the girl up I said "we have a problem" and she whispered..."yeh we fucking do, your mum is looking right at us!"
6. In a car, overlooking the desert during a thunderstorm.
That sounds like an X-rated Thums Up commercial.
"I gave my virginity to a friend with benefits, in a parked car, overlooking the desert, in the middle of a huge thunderstorm. The thunder exploded right over the car as I exploded in her. I always took this as a sign from the gods that they approved."
7. I CAN'T EVEN.
This guy is absolutely nuts.
"With my wife,
1.On the hood of our car, down the road from our house
2. Youth hostel on the Ell River
3. Neighbor's hot tub
4. Along the trail while backpacking
5. While driving down the highway at 70 mile an hour (she giving me head)
6. North rim of the Grand Canyon, just finished when the ranger showed up wanting to know what we doing
7. In a camp chair in a campground on the North rim of the Grand Canyon
8. At the show when we saw Sammy Davis Jr., under the table with hands and no underwear
9. In the hot tub at the Racket Ball Club with people 20 feet away
10. Drive-in theater, have no idea what saw."
8. AT A BUS STOP IN MUMBAI :o
"We then proceeded towards the bus stop (do bold it for people who just wanted to know "where"). We stayed there for a while, did talk and after sometime it did rain. After few minutes she got into the mood so intense that I never had her previously seen. I was not prepared for that and I did not have even the protection. She did lie at the sitting bench and we had sex at a bus stand with shaded tin shouting a lot when was stroked by rain drops."
9. A RESTAURANT WHILE THE WAITER WENT TO FETCH THE BILL.
"We were the only guests left in the mezzanine, we asked for the bill and when the waiter went down I performed a fellatio on my partner to completion. It didn't take long, but definitely a few minutes. To our surprise the waiter came back with the bill literally 30 seconds after we recomposed ourselves. We will never know, but since there are three security cameras in the mezzanine."
10. UNDER A BLANKET, SURROUNDED BY FAMILY.
"On our first Thanksgiving together, my first wife invited me to have Thanksgiving dinner at her parent's house. I had never met her family before.
So Mom and Dad, Sisters One and Three, my future wife and I were watching the Thanksgiving morning football game. My beloved and I were cuddling under a blanket.
Imagine my surprise when she quietly unbuttoned my Levi's 501s and proceeded to give me the most terrifying hand-job of my life."
Well, well, well...people really are adventurous.