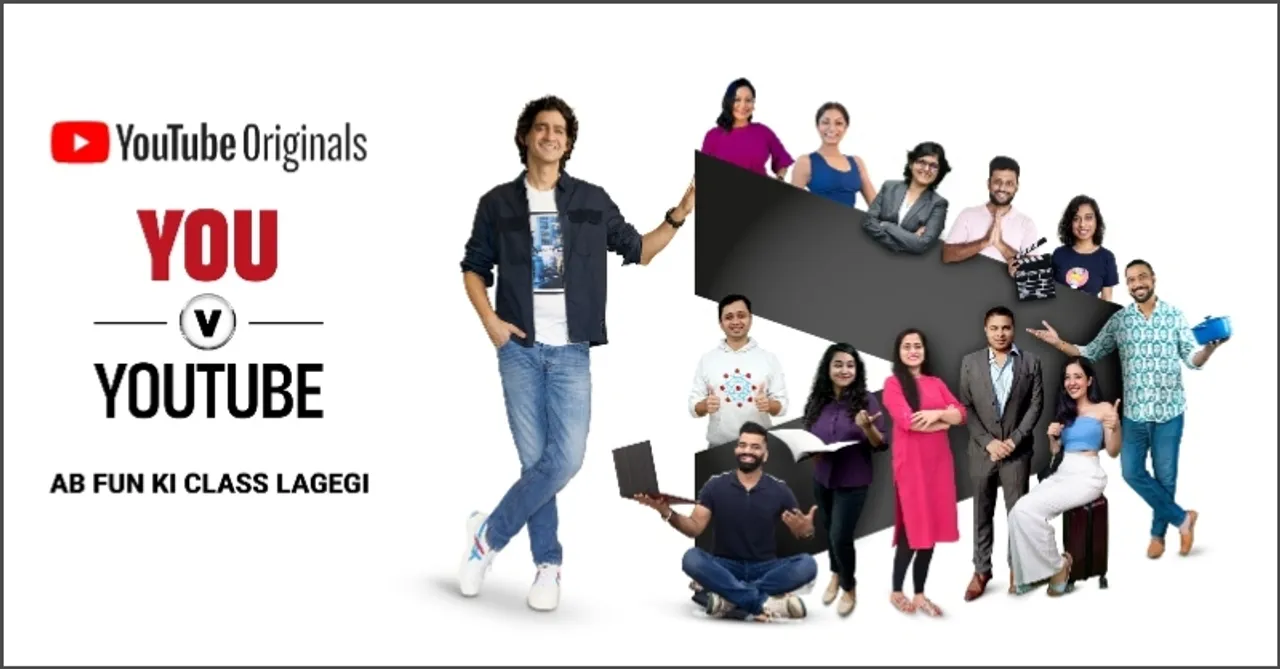 YouTubers and educators, Roshni Mukherjee, Gaurav Garg, Ganesh Pai and Ceema Picardo open up about their experience of being part of Gaurav Kapur's YouTube original quiz show series 'You V YouTube.'
With the popularity of the digital space, people from across different fields are trying their hand at making the most of it. Considering the reach that these platforms have, we're witnessing experts from all strata sharing their knowledge on a subject they're good at and helping people. Teachers are among these groups who have realised the power of YouTube and are doing their best to share their valuable knowledge with those who are seeking it for free. We have a bunch of such educators who have become a household name with their channels. A few of these YouTubers and educators have become part of Gaurav Kapur's YouTube original quiz show series 'You V YouTube.'
Gaurav Kapur recently released his YouTube original quiz show series 'You V YouTube'. The show covers a wide range of subjects from Science, General Knowledge, and Math to English, Travel, Food, and Technology, with a novel and fun gameplay that tests the contestant's practical knowledge and skills beyond simply trivia.
You V YouTube tries its best to engage the audience to become a part of the show too. While the questions to the contestants will be posed by YouTube creators, each of whom is a subject matter expert, the contestants are selected through an online audition. On the show, they must answer ten questions across ten different subjects, each asked by a different YouTube creator, for an opportunity to win over Rs. 10,00,000.
The YouTubers who are a part of the show include Roshni Mukherjee (Science), Gaurav Garg (General Knowledge) Ganesh Pai (Mathematics), Ceema Picardo (English) Arun Krishnamurthy (Environment), Gaurav Chaudhary (Technology), Nidhi Mohan (Health & Wellness) Ranveer Brar (Food), Reena D'Souza (Sports), Sucharita Tyagi (Movies & Music), Rachana Ranade (Finance) and Tanya Khanijow (Travel). We had a chat with YouTubers and educators Roshni Mukherjee, Gaurav Garg, Ganesh Pai and Ceema Picardo to know more about their experience of becoming part of his unique quiz show on YouTube.
Here's what they had to share:
Roshni Mukherjee: ExamFearVideos on Youtube
"It was really a great experience to be a part of You V YouTube along with some amazing content creators and personalities. It was an amazing experience to shoot from home such a quiz show that involved different people from different parts of the country. This concept of shooting a quiz show from home was definitely something unique. Needless to say, there was a lot of knowledge shared during the show from different creators, so obviously I got to learn many new things. Gaurav Kapur definitely made us all feel engaged and comfortable throughout the shoot. The way each episode was planned and shot tells us that if you aim for perfection, no limitations can stop you. I personally enjoyed and learnt a lot during the shoot of You v YouTube."
Ganesh Pai: Don't Memorise on YouTube
"In 2019, when my partner manager (Akshata Udiaver) told me about this show, I just couldn't wait for the shoot to begin. The wait increased because of the pandemic, but it was totally worth it. My experience was astounding. I have always liked GK's work but I fell in love with his humour during the shoot of the show. Most times, I couldn't control my laughter and I am quite embarrassed about it. I also learnt a lot of things about the other topics like GK, Science, Food, Tech etc.; and the support we received from the Fremantle team was also extraordinary (not only in terms of our camera presence but also in terms of equipment shared with us to help us with the shoot)."
Gaurav Garg: Study IQ on YouTube
"I was approached by the YouTube Edu and learning team and was informed about this opportunity. As soon as I heard the concept and the theme I said YES. Since the show is not just about fun and learning but also a good cause I didn't need much convincing.
The experience was just as I had hoped for. I learnt a lot. It was my first show of this magnitude. Creating such a large show is no child's play. I learnt about the technical side of shooting, lighting, camerawork, editing, and various facets of direction. I was forced to push myself and come out of my comfort zone, this was the most satisfying part. Also, I learnt a great deal from the questions and explanations of other creators and made new friends for a lifetime. Now I wait anxiously for the audience feedback and can't wait for the following seasons."
Ceema Picardo: Learn English Let's Talk on YouTube
"Early March of this year is when Fremantle initiated talks with our channel (Let's Talk) as we were solely into educational content.  They explained to us the premise of the show which was making a fun quiz contest that can equip people across the country to learn, earn and of course, have fun.  So, it was really all about learning with fun!  And that was probably when I decided to give this a go.  My teaching (online and offline) is really about making learning sessions interactive, engaging and insightful at the same time.  So, this concept of learning through a quiz show seemed like a really cool idea, especially when you have a plethora of subjects to gain so much insight from.  In early March, we never intended for it to be an online show, it was meant to be shot live.  At the time I was really pressed for time as we were transitioning all our offline classes onto an online mode.  So, I was swamped with work on content creation for our curriculum.  However, I really wanted to be a part of this show as I have always been fascinated with quiz shows and as a teacher, I regularly have these little fun quizzes in my class.  However, in April, the second wave of the pandemic hit, and we had to shoot the show online.  In a way, I was a little sad because I would have loved to meet everyone in person.  But the online show gave me more time to manage my other projects.  So I think it all worked out for me in the end and I'm proud to now be associated with the amazing show You V YouTube.
Freemantle and their entire crew have been so meticulous and professional with the way they took care of each part of the process of birthing this show.  Right from the marketing to the content creation (forming questions), to the aesthetics and the actual shoot, they have literally hand-held me through the entire process.  Being a creator, I got to learn so much from other creators and it was amazing to see the passion they had for their respective subjects.  Apart from learning from other creators, we got to have a lot of fun on the show-I now know some of their quirks, their habits, their likes and maybe even pet peeves.  Also, I must say that Gaurav Kapur who held the show together with his great hosting skills, and his gift of the gab punctuated with his hilarious comments made the show reach a different level of fun altogether.  I also was humbled by the fact that the entire project, as big as it is, has a heart for giving- a deep passion to give back to society through donating a part of the prize money to the Covid relief fund.  All in all, it was a great experience to be a part of this amazing show where I learned and took away the best memories with the most professional people I have ever met.  Kudos to Freemantle and YouTube for giving me the best experience of my life!"
Have you checked out the show yet? What is your favourite part? Let us know.