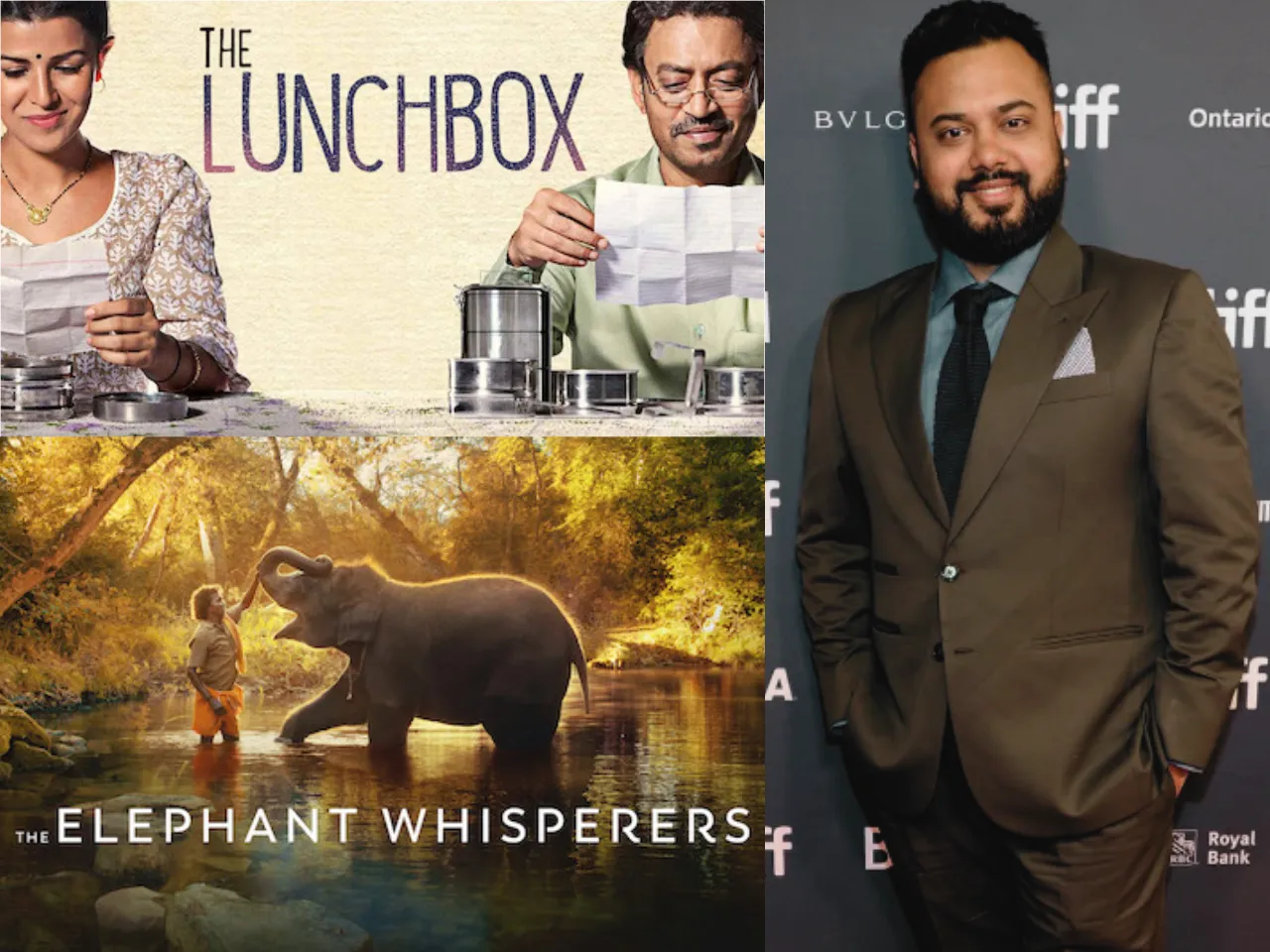 Achin Jain, co-producer with Guneet Monga at Sikhya Entertainment, sheds light on what Sikhya's plans are, why theatres are seeing audiences now vs. before, whether or not content decides the medium it's going to, and much more in this detailed conversation! 
When the word production or produced by is seen, we largely and loosely understand it as the company or the person behind financing the film. But there's much more to this. Producing content involves making a lot of decisions, especially on the business front, because filmmaking is an art that is monetized. Achin Jain, a producer from Sikhya Entertainment, defines the job of a producer as a "marriage for life". Being a producer for more than 15 years, Mr. Jain is attributed as a director's producer who not only discovers new talent but also helps first-time filmmakers. 
As a cinephile, he absolutely loved the month of July this year as it was a celebration of cinema in its mainstream, loud, and fantasy form with Barbienheimer, and Rocky and Rani. In this interaction, we talked about The Elephant Whisperers, Oscars, Sikhya's future plans for documentaries, feature films, web series, short films, the present scenario of theatre and OTT as mediums for content, what they look for in a story, challenges they face in producing, and so much more. Achin's filmography includes two Oscar winners- Period: End of Sentence, and The Elephant Whisperers, as well as titles like Pagglait, Kathal, Lunchbox, Gutar Gu, Haraamkhor, and the recent film Kill, which has its premiere at TIFF. 
Here's what he had to share with us:
With what little experience I have had with production in my film student days, I felt the job of a producer or production is essentially client servicing where the director, writer, cinematographer, editor, and everyone has to be taken care of and brought into sync for the greater good of the film's purpose and vision. Would you agree? Or how would you define it? 
In a way, what you said is right- a producer is someone who brings a director or writer on board!  You are the first one to get excited with that gem of an idea, and you have a certain vision of how you want that vision to come into reality. It's a big tricky journey which is a two-way process where internally, you are handling your whole team, bringing in the whole crew, and actors, while dreaming big with a writer and the director on how you want to tell the story. At the same time, you are also dealing with the business side of it, your finances, platform, etc., essentially building in what will be your marketing plan. So, a producer is someone I feel is the first one to come on board and is someone who never leaves. I mean, for us, we are still servicing the films that we produced 10 years ago while everyone else can move on very easily. So, it's a marriage for life for a producer! 
How did you enter into being a producer and connected with Guneet Monga and Sikhya Entertainment?
Post my 12th I knew I always wanted to get into filmmaking, but coming from Delhi, I didn't know the right way to get into it because there's no formalized education for this. So, I was studying mass communication, and Guneet happened to be from my college and had produced a film called 'Say Salaam India', which was released in the week of India losing the World Cup in 2007 sadly, the film was based on cricket. At that point, Guneet had very innovatively tried to release the film independently with this campaign for all the kids and the students from school and do morning shows for them. So that is how I got introduced to her, and we started working with each other for the first time with a very small campaign, but slowly and steadily, who knew, 15 years later, we worked on, I think, over 30 40 films together.
Now, this is where you both are with an Oscar in hand! How did the Elephant Whisperers pan out, and what was it about that film that actually made you guys decide that we should take it to the Oscars?
Firstly, we were just lucky that Kartiki (Gonsalves) decided to follow this story randomly in the foothills of Ooty, where she had just followed Baman and Raghu at that point. She had shot for 10 days and made a small sizzle out of it, which she sent as a cold email to Netflix, and Netflix further shared that with us and introduced us. For us, it was just the heart of the story, the same heart that resonates with everyone today we could see a glimpse of it at that point. We were very excited in general, and also because the wave of COVID had just started back in 2020, so for us against such a depressed duniya, seeing such an exciting story with so much heart got us very excited. The Elephant Whisperers got really made during the whole of COVID, we shot a number of times, and the whole edit, etc., took over two years.
The Oscars is something that organically happened; no one really planned it. The film that was released last year on the eighth of December, even at that point, none of us had any thoughts or ideas in spite of having submitted a film for the Oscars. But because the film hadn't had any sort of a festival run, which normally happens with other movies, When the film has had a year-long running it is playing at different film festivals and everyone is talking about the film, this one was released in December, and three months later we were holding the Oscar for the movie. So, yeah, it was surreal but it was nothing that we had planned beforehand, it all happened just happened! 
Has anything changed since then for you, Sikhya, and Guneet Monga? 
I don't think so, yes, the appreciation for what we do probably has increased a bit more. But for us, I think it's the same grind, the same excitement with which we are telling stories beforehand. So not much has changed. However, the love and appreciation we have received for the film and in general, for the storytelling is something that we are very proud of! 
After this though is Sikhya (Entertainment) looking to go more producing documentaries? I know, that the Yo Yo Honey Singh documentary is in the making. But are you looking at long-format documentaries as well or just short formats?
So, unfortunately, there are a lot of challenges in the business of documentaries and despite winning the Oscar, we can't ourselves say what is a clear business plan when it comes to documentaries. So for us, the documentary is that independent passion side of ours where we will keep making documentaries. But I think the business-wise feature films are what we are focusing a lot more on. As a passion project, we are developing a number of other documentaries, anything and everything that we are working on on the new stuff will come probably in 2024 or later as documentaries take over 2 to 3 years to make. 
When you say Sikhya is looking more in feature films, what is it that you guys look at in a script? Say when lunchbox came, what made you go towards co-producing it? 
Again, it's just excitement at the heart of the story. It is always said that we all have a taste that defines us too. So, when we are making the film we are not really looking at whether it has to be a 100 crore film or it has to be this or that. We are just looking for what the film stands for, whether we resonate with the film or not, whether we feel we can add our two bits to that movie or not. And then if you are excited about working on that film because it's a long partnership on any film that you are working on you are going to spend a min of 18 months to a max of 2- 2.5 years. So, what we look at is excitement about the story that resonates with us because then only it can be made with all honesty and integrity, and will resonate with everyone else too.
Your films specifically Pagglait or Kathal or Haraamkhor- all have unique storytelling because they talk about a serious topic in a fun and light comedic way. Would you say that you guys move towards this specific style (genre) more?
Yes, now we can see a pattern in what we have been doing- as 70% or more of what we have done indirectly or directly is about the social change, is about some topics or issues that we are trying to bring forth or impact with stuff that excites us. But firstly, somewhere the story has to work because you are using this audio-visual medium to tell a story that can move someone and impact. I feel this is the most impactful and accessible medium out there, so it matters how we use it to tell a story that will resonate and maybe if not bring a change at least can start some conversation about issues. So, yeah, if we look back at most of the stuff that we have done in the past and in fact things that we are developing, a lot of it is about the social change to create an impact. 
Do you feel somewhere maybe a little bit disappointed when films like Peddlers or The Ashram do not work as much as maybe Pagglait did?
A film has its own journey. Peddlers is still one of the most precious to all of us at Sikhya. It has its own reason why it didn't get released in India and we are hopeful that one day it will come out. But having said that, I don't think comparing a Peddler and a Pagglait would be the right medium as every story has its own journey. Definitely not pairing the oranges and apples and what the market scenario was when a peddler got made as there were no OTTs compared to a Pagglait that got that love also due to the OTT and the time that it released in. So yeah, not disappointed in that sense but yes, I hope a lot more can be done to support independent cinema.
Do you agree that with the systematic change that has happened with OTT, has helped independent cinema come up in many ways?
There was a phase when independent cinema really earned a lot out of it. But I don't know moving forward whether independent cinema will gain out of this change of mediums. Let's see how all that pans out! But yes, what was not possible earlier and how tricky it was for independent films to get made probably 15 years ago, in the last five years it has eased out for sure.
As a producer do you think a time has come where the decision of what content goes where, on which medium rests on what the content really has to offer or it doesn't matter?  
Honestly, some time ago I would have said it doesn't matter but the way businesses are changing and evolving we see the tent-pole cinema (*a major motion picture that is expensive to produce and is expected to generate significant revenue for its producing studio and investors) is what is getting people into cinema. I would love to go back to the time when Stree and Badhaai Ho really broke out and did numbers at a time when it didn't make business sense. But essentially content has to work content, cinema has to work! And unless that happens, it is challenging for small films to really break out in theaters. Somewhere the format is getting decided itself by the kind of film that we are seeing, probably it will change in a year or so but for now, the kind of stories we are seeing determines whether it's a theatrical or OTT release.
What is your take as a producer on why the theater was probably not seeing audiences and is now?
The main reason is that it's a game of quality and quantity, there's way too much content available freely and what has happened is our attention span has reduced drastically. So it's a combination of there are way too many options and you need to really make something special and unique for one to get out of their home, and spend that expensive buck to experience a movie in a theater. Back in the day, it was the main source of entertainment but today it is one of the many sources of entertainment, so it has to be unique for one to go and spend that money to enjoy a movie. 
The drastic reduction and change in attention span is true but do you think it affects filmmaking in a sense where on the production side or business side are looking for a two-hour film rather than a 2.5-hour or a three-hour film or shorter five-episode series than a 10 episode series?
Earlier there were movies or series where the slow pace used to be cherished and enjoyed. But right now you want things to move really fast and that is because otherwise, people will get bored. So there are formulas that people are applying and trying to cater to the audience's attention span. But I feel in the last it is what resonates with the particular audience. It didn't matter with Thar which is a slow-paced film yet that resonated with people or the recent release Kohraa. But of course, as a formula, everyone is trying their own things of how to move very quickly, to have something or the other happening in every five minutes. But I don't think those formulas are helping per se because you are not being true to what you want to make, but are trying to cater to the audience in a certain way which affects their view. So to sum it up 'attention' in general has become a massive problem.
You guys have ventured into short-format web series like Gutar Gu or Gupt Gyan but are you looking into stepping in long format web series too?
We are also working on a long-format and web series also, Gyaarah-Gyaarah (11:11) is going to come on Zee5 later this year, so we are really excited. We are working on short films and we have always used short films as a way to discover new talent. I have been making short films with today's A-Listers, who back in the day were just starting out. For the last 15 years, we have been making short films which has also led us to the two Oscars with Period: End of Sentence and The Elephant Whisperers. But we are working on developing a number of new web series, feature films, short films, documentaries, and all the formats.
Short films in a span of few years have grown a lot and found their audience but what is the biggest challenge that you face making such films that offer so much more in so little time?  
I would say the only challenge that we face in making short films is on the business side of it as no one really wants to make short films apart from that, we love everything about short films! We are in a business where we get gratification after 2-2 years because you develop something, you go and shoot, you edit. But short films are something that you can turn around in three to four months, so as a maker, we also need a certain gratification and excitement in life. For us, it is also a medium where we discover new stories, filmmakers, actors, talent, crew, and all. So, apart from just how do we sell those short films, how do we bring those short films out to the audience there is no other challenge that we feel with the short films. 
You guys have had quite a success with Soorari Pottru what are your plans for content from down south? 
We are in the midst of developing a few things, right now, in Tamil and other South Indian languages. But the focus right now is on a certain set of movies in Hindi. But yes, we are looking at more Pan India content and by that, I don't mean content from the world but intimate stories from Malayalam, Tamil, and different regions bringing in different voices.
As a producer what would your advice be to young budding writers or filmmakers out there? And how can they approach you?
Simply just register your synopsis with us, we are looking for stories with heart, that tell us something unique and different yet resonate at the same time. Tell us something that is your voice rather than trying to be someone else's, and essentially we are looking into content that will be relevant even after two or five years down the line, so have that freshness and naturalness in your voice. 
For more binge-centric content and reviews, follow us on @socialketchupbinge.