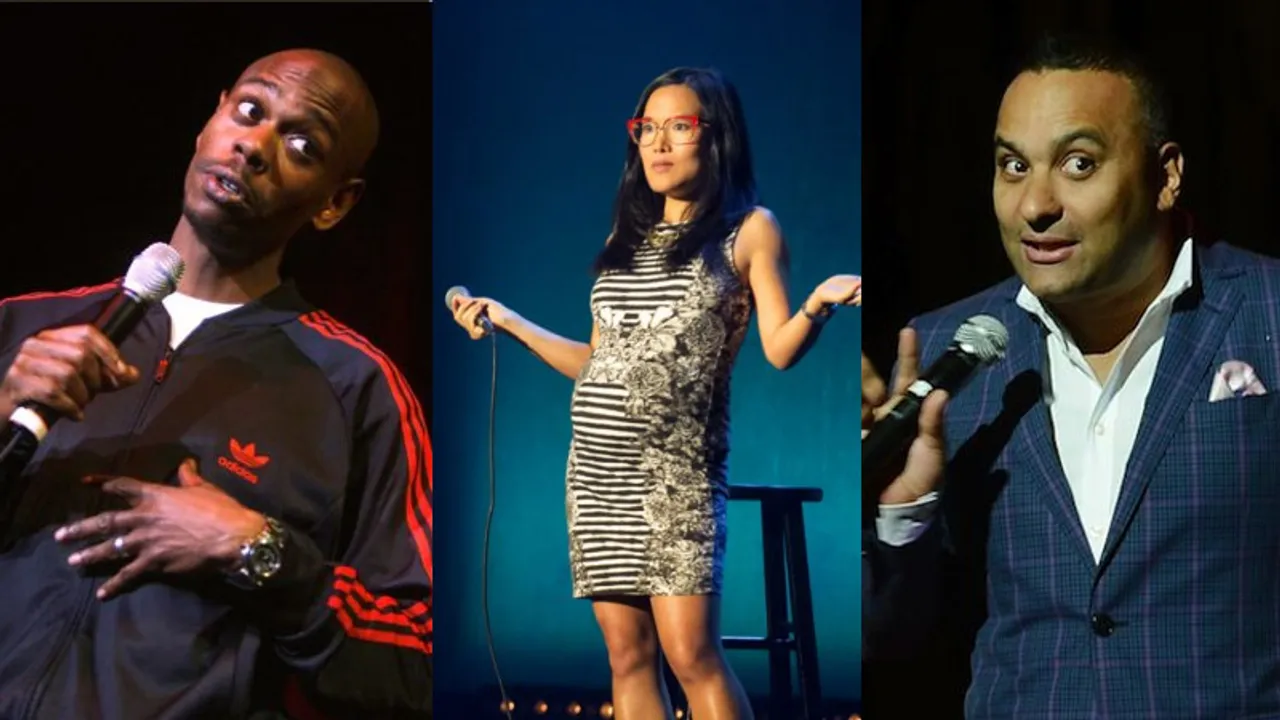 Netflix happens to be one of the most diverse, and well-curated platforms for comedy and today, we bring you a list of the best comedy specials on Netflix right now!
What some people consider to be expensive wastefulness, I believe to be a digital drug, right alongside social media and pornography but neither are going to make you laugh hard as it. These are some of my personal favourites, highly rated and the best Netflix comedy specials on the platform, not because they're simply funny. But because they made me completely overlook the 'Chill' part.
I can recollect enough scenarios of myself slapping my knee, holding my head, teary eyed, trying to not laugh but failing miserably, to make you question my own sanity.
From bringing us the works of some of the greatest veterans such as Richard Pryor and Jerry Seinfeld to modern day geniuses, Dave Chappelle and Russell Peters and many more are a part of the best Netflix comedy specials.
So here we go, in no particular order, ranking or rating, these are some of my favourite shows that I hereby proclaim as the best Netflix comedy specials on the platform today.
1. Dave Chappelle - The Age of Spin and Deep In The Heart Of Texas
Dave Chappelle returns with one of the most critically acclaimed standup performances that earned him a Grammy Award for the Best Comedy Album. Chappelle straightaway dives into some of the most controversial topics and hilarity ensues.
2. Patton Oswalt - Annihilation
His first stand up performance after the passing of his wife, Annihilation contains some of Patton Oswalt's funniest and most critical criticisms of Donald Trump among other things. Watch out for 'the Polish lady of doom.'
3. Cedric The Entertainer - Live From The Ville
Acclaimed veteran comedian Cedric The Entertainer does justice to his name once again with a performance in his trademark style, and like a lot of the most recent stand up comedy routines, uses Donald Trump, and Cedric's own observations and confusion with the younger generation for material.
4. Chelsea Peretti - One Of The Greats
You may know as the overconfident, lovable and super annoying but more lovable, Gina Linetti from Brooklyn Nine Nine, but Chelsea Peretti gets on stage to prove she has what it takes to become 'One Of The Greats.'
5. Jerry Seinfeld - Jerry Before Seinfeld
Few stand up comedians have attained the iconic status that Jerry Seinfeld has, and the richest celebrity in the world also reaches out into his rich past for a performance/hilarious nostalgia ride where he discusses his entry into the world of stand up comedy, his first ever joke and more.
6. Sarah Silverman - A Speck Of Dust
Controversy's favourite child, Sarah Silverman returns to the stage after a health scare in 2016 and does not take too much time to stir the pot with liberal doses of controversial jokes, sprinkled with self awareness.
7. Hannibal Buress - Comedy Camisado
Hannibal Buress and his stoner eyes and voice complement his comedy perfectly in this Netflix special where he jokes about himself, and among other stuff, also does some parts of the infamous Bill Cosby joke routine.
8. Gabriel Iglesias - I'm Sorry For What I Said When I Was Hungry
One of the best stand up routines from the adorable Gabriel Iglesias where he recollects one of his most iconic jokes, The Racist Gift Basket and the hilarious after effects of the joke that continue to occur to this day.
9. Chris Tucker - Chris Tucker Live
Chris Tucker really loves his Michael Jackson impersonations, and this special has a lot of it, alongside Tucker's experiences with his family, success and the growing number of cousins that come with success.
10. Neal Brennan - 3 Mics
Neal Brennan's 3 Mics does actually contain 3 Mics that are all utilized by the comedian to perform three distinct styles and types of sets, one of which includes him taking about suffering from depression.
11. David Cross - Making America Great Again
Tobias, as he is still widely known across the USA, makes it very clear that he won't be performing the way people expect him to, from his Arrested Development character style. Instead, David Cross offers scathing but hilarious attacks on Donald Trump that lead to an audience member walking out mid show.
12. Maria Bamford - Old Baby
Old Baby is one of Bamford's most honest, and funniest performances in recent times and has her performing in front of an audience in a park, in the corner of a library, on stage and more.
13. Richard Pryor - Live In Concert
Live In Concert is one of s best Netflix comedy specials from the universally acclaimed and revolutionary stand up comic who paved the way for generations of young comedians to follow his footsteps.
14. Chris Rock - Tamborine
Released recently, Chris Rock's Tamborine also marks the 53 year old's return to the stage with jokes about police brutality against the African Americans, Donald Trump, being a father and more.
15. Russell Peters - Almost Famous
One of the world's most popular, highly rated and widely touring stand up comedians, Russell Peters' brand of humour is something the audience never seems to tire of, and Russell too, always has more to dish out.
16. Jen Kirkman - I'm Gonna Die Alone
Finding inspiration and material from her life, the mistakes and the misadventures, Jen Kirkman shows no mercy towards herself as she lays everything bear with no shame that restrains most women from saying such things, and it's a breath of fresh air!
17. Aziz Ansari - Live at Madison Square Garden
A monumental feat in itself, performing at the Madison Square Garden is not only amazing but also intimidating, although Aziz Ansari eases into it effortlessly. His jokes include personal experiences as an immigrant growing up in America and more.
18. Joe Mande - Joe Mande's Award Winning Comedy Special
Joe Mande uses his experience as a television writer, performing in a sweatshirt which has nothing to do with the summary except for the fact that his special is relaxed and entertaining.
19. Trevor Noah - Afraid Of The Dark
Originally not South Africa, Trevor Noah discusses his observations of American culture, and borrows material from cultural stereotypes with some funny mimicry and impersonation.
20. Hasan Minhaj - Homecoming King
His first ever stand up comedy special for Netflix, Homecoming King has the Indian American perform a critically acclaimed 72 minute, well balanced set that contains both humour and sadness.
21. Ali Wong - Baby Cobra
Ali Wong loves her line of work because why else would you be on stage telling jokes while YOU'RE SEVEN AND A HALF MONTHS PREGNANT! She jokes about her own sexual adventures, hoarding and 'why feminism is terrible.'
Phew. My jaw hurts and I think I peed a little.
P.S. These are my personal favourites and recommendations. You could dislike them, like something else and just about anything but if you ask me, these are the best Netflix comedy specials on the platform today!