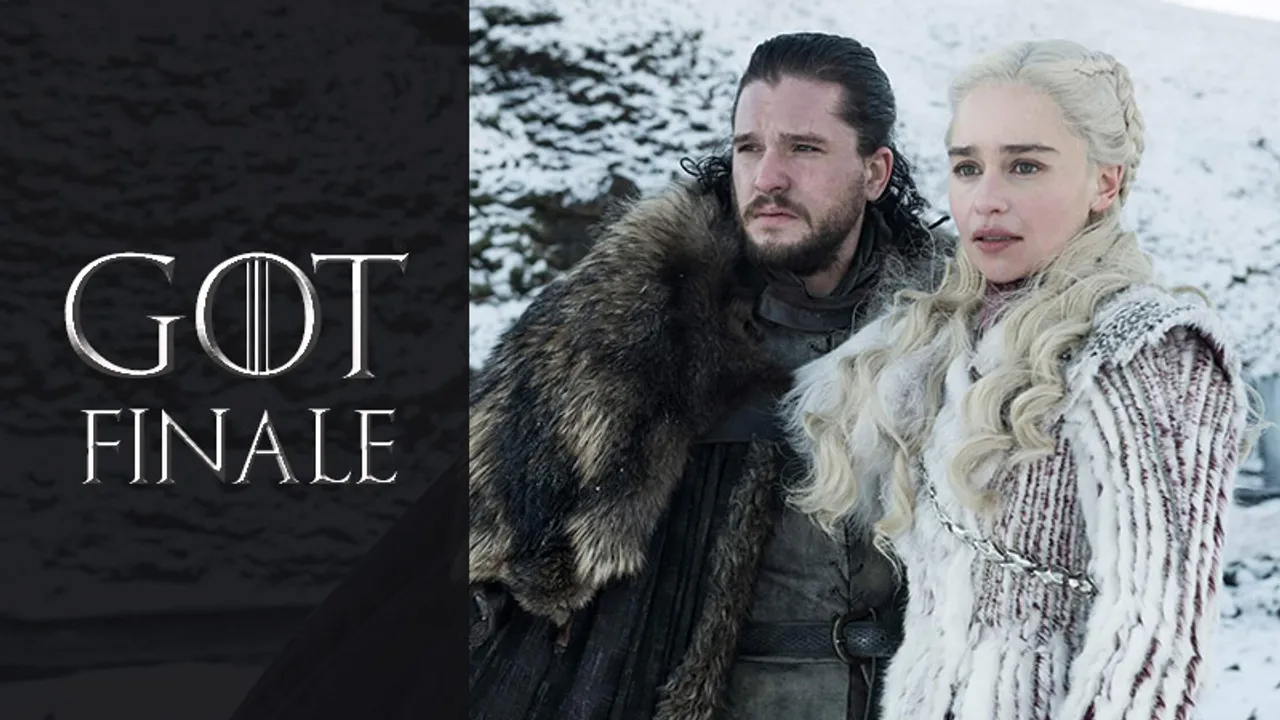 To the fans of Game of Thrones, Twitter has been a battlefield the past few weeks. Here's a glimpse into the verdict after the last episode
Game of Thrones is over — or is it? A show that created such a whirlwind in the world is bound to be remembered for long. Over a million people came together to sign a petition for Season 8 to be written again. Twitterverse has documented each emotion individuals felt during these episodes, in detail. Here, we bring you a facet of this depth, wrapped with a release of emotions worth a decade of a wait.
Emotions ran super high
I'm glad that Drogon turned the Iron throne into molten lava. Burning down the Iron Throne represents the breaking of the wheel in a way. His grievance hit me so hard, it was heartbreaking to see him scream like the world was ending?. #GameOfThrones #Dany #Bran pic.twitter.com/6BZAe8JTBt

— Aadil Ace (@AceAadil) May 20, 2019
Appreciating the director's cut
This shot ??? was best of the entire 8th season #GameOfThrones #TheFinalEpisode pic.twitter.com/I90wtfNUuT

— Cowboy Bebop (@mrdevd) May 20, 2019
Can you really hate them?
Just realised he's got his arm around her stomach so is also holding onto their baby and now I'm emotional again?#GameofThrones pic.twitter.com/g0zK2Bk4O6

— Stacey Mair #ForCersei (@staceylm1990) May 20, 2019
Never the lonely wolf
The man who passes the sentence should swing the sword!_Ned stark #GameOfThrones pic.twitter.com/wSSjDhw7x2

— Dastan ❤&? (@Ayaan786666) May 20, 2019
All hail the one true dragon queen
All in all Daenerys Targaryen is still the baddest bitch and deserved the iron throne #GameofThrones

— miss bey (@beygiraffe) May 20, 2019
They grew up to their destiny
Just look at that last scene towards the end of #GameOfThrones which compares Sansa, Jon and Arya walking. Everyone bows down to Sansa. The wildlings look up at Jon but do not bow. No one pays any attention to Arya as she walks across the ship deck. So true to their characters.

— Andrea Churchill (@achurchillbooks) May 20, 2019
Tyrion is successful and how!
tyrion should be career coach. mf manages to get a royal ass job no matter what.

— Imaan Sheikh ? (@sheikhimaan) May 20, 2019
Not all characters get the dues
tyrion was praising bran for surviving beyond the wall when meera reed was the actual reason he made it alive. and this girl not only never got a proper sincere "thank you" but also was never even mentioned again and we don't know if she survived, eye

— ellie (@odairannies) May 20, 2019
Game of Thrones explained in a tweet
*Cersei, Dany, #JonSnow and everyone else fighting for the Iron Throne*

Bran: Ama just let em finish #GOTFinale #TheFinalEpisode #GameofThrones pic.twitter.com/dMQIfAVCqI

— Jèfé Juan José (@Jefe_says) May 20, 2019
Drogon knew what he was doing!
Detective Drogon ? #GameOfThrones pic.twitter.com/c1hX4TnKab

— Nissa Nissa (@heynizaaa) May 20, 2019
When emotions run high
Me after spending 9 years watching got#GameOfThrones pic.twitter.com/R2cAW5RHCB

— Piyush Sayanja (@piyushsayanja) May 20, 2019
Mis-en-scene is key!
So you're telling me Jaime and Cersei could have stood 30 feet to the left and survived #GameOfThrones pic.twitter.com/2SwhmPpKCi

— Scotty (@ManLikeGinger) May 20, 2019
Forged with dragon fire, the Iron Throne stood
The only sensible and satisfying moment in this season was Drogon burning down the Iron throne, meanwhile... am I the only one who gets annoyed by Sansa? And yeah Bran, he's not even worth mentioning anymore in GoT. pic.twitter.com/gELP79BkpA

— Kakarotto_for_hokage (@GabruSeth) May 20, 2019
There's always another side (...)
hey now that your incest dragon show is over can you text me back

— sergeant dick lips the third (@TeahLhompson) May 20, 2019
Disappointments came aplenty
How I look after spending 2 yrs getting excited for season 8 #GameOfThrones #TheFinalEpisode pic.twitter.com/8IgwL0mhk7

— Grace Asquith-Evans (@graceaeae) May 20, 2019
The one thing the world agrees on!
Я рад, что в конце концов они остались вместе #GameOfThrones pic.twitter.com/Bms4yLoILh

— запиши ✪ (@your_cherrypie) May 20, 2019
Until next time, maybe?
- Nine years. - Seventy-three episodes. Finished today ?. Thanks, #GameOfThrones pic.twitter.com/ebeHum6ByS

— Boy ? (@Boy_i9) May 20, 2019