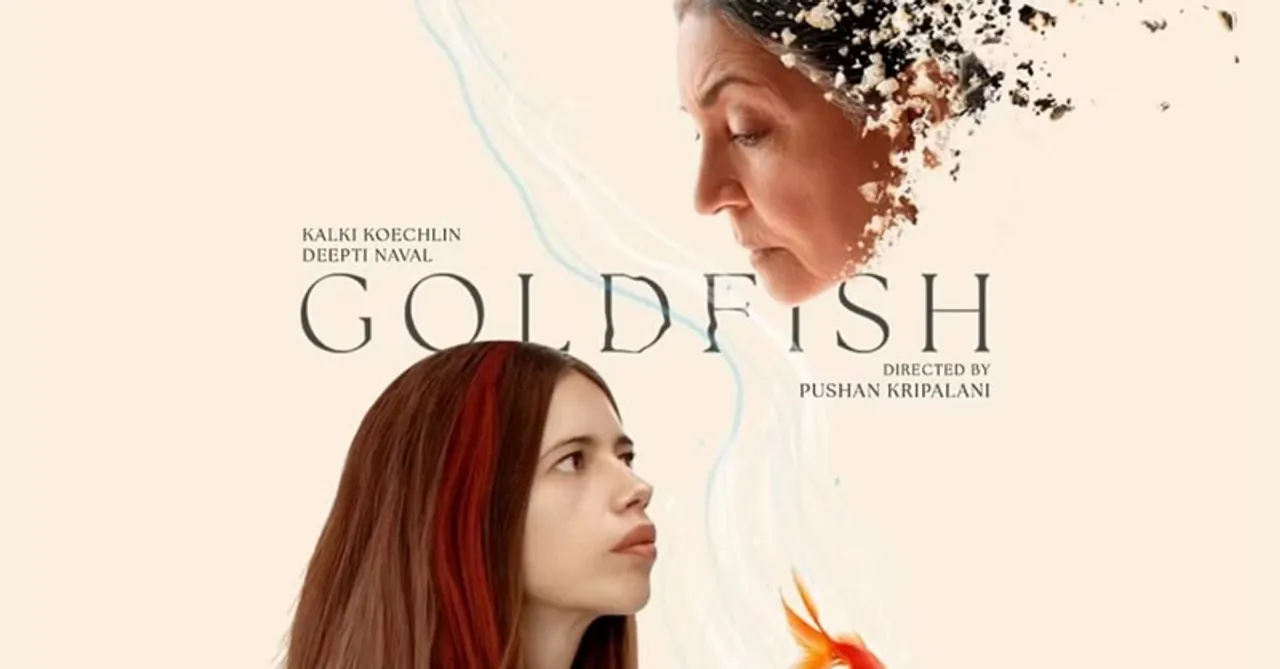 Splendid Films released the trailer of the acclaimed film 'Goldfish' and held a panel discussion about the same. Goldfish will release in India on August 25, 2023.
Just like the film's trailer, the 'Goldfish' trailer launch too was a gentle and sensitive affair. Presented by Anurag Kashyap and directed by Pushan Kripalani, the film revolves around a mother and daughter struggling with the mother's dementia. The trailer gives you a look into the world of Anamika (Kalki Koechlin) and Sadhana (Deepti Naval) and how they navigate through their bitter-sweet relationship. Naval, Rajit Kapur, Kripalani, and psychologist Dilshad Khurana delved deeper into the importance, impact, and nuances of mental health challenges, especially in old women, and ways to cope.
Also Read: Prepare for season 2 with this nostalgic Made in Heaven recap
You can watch the trailer here:
Speaking about his directorial venture, Pushan Kripalani said, "Goldfish began as a film about dementia, identity and diaspora but once the cast got involved and the ideas progressed, it soon became a movie about much more. At its core, Goldfish is a story about forgiveness and about retaining humanity in the face of the inevitable; it is about love. Deepti Naval and Kalki Koechlin breathed life into their characters and made their essence come true. The team is thrilled to have the film released in India and we are excited to see how the Indian audiences react."
Talking about the critical acclaim that Goldfish has garnered, producer Amit Saxena shared, "Goldfish is a content-driven film. After the massive love and the wide critical acclaim we garnered internationally, we wish to now bring the film home. The film captures various themes such as those of family, love, relationships, and community, and we hope the audiences can relate to these subjects and enjoy watching the film. Deepti Naval and Kalki Koechlin have been the heart of the film and Pushan has done a spectacular job in bringing the vision to life. Goldfish is a movie that will pull you into its world and make you a part of the family of its characters, even long after you've left the theatre."
Psychologist Khurana said, "Films possess the remarkable power to deliver impactful social messages in a way that resonates with audiences, fostering progress and acceptance. Their ability to captivate vast audiences through compelling storytelling is truly commendable. In a society where mental health remains shrouded in taboos and judgment, despite its prevalence, Popular mediums such as films picking up story premises that deal with emotional and mental health themes stand as a beacon of hope. Through this popular medium, we aspire to ignite conversations around mental health, ultimately illuminating the path towards transformative change and encouraging help-seeking behaviour."
What did you think about the trailer? Tell us in the comments below!
For more reviews, follow us on @socialketchupbinge