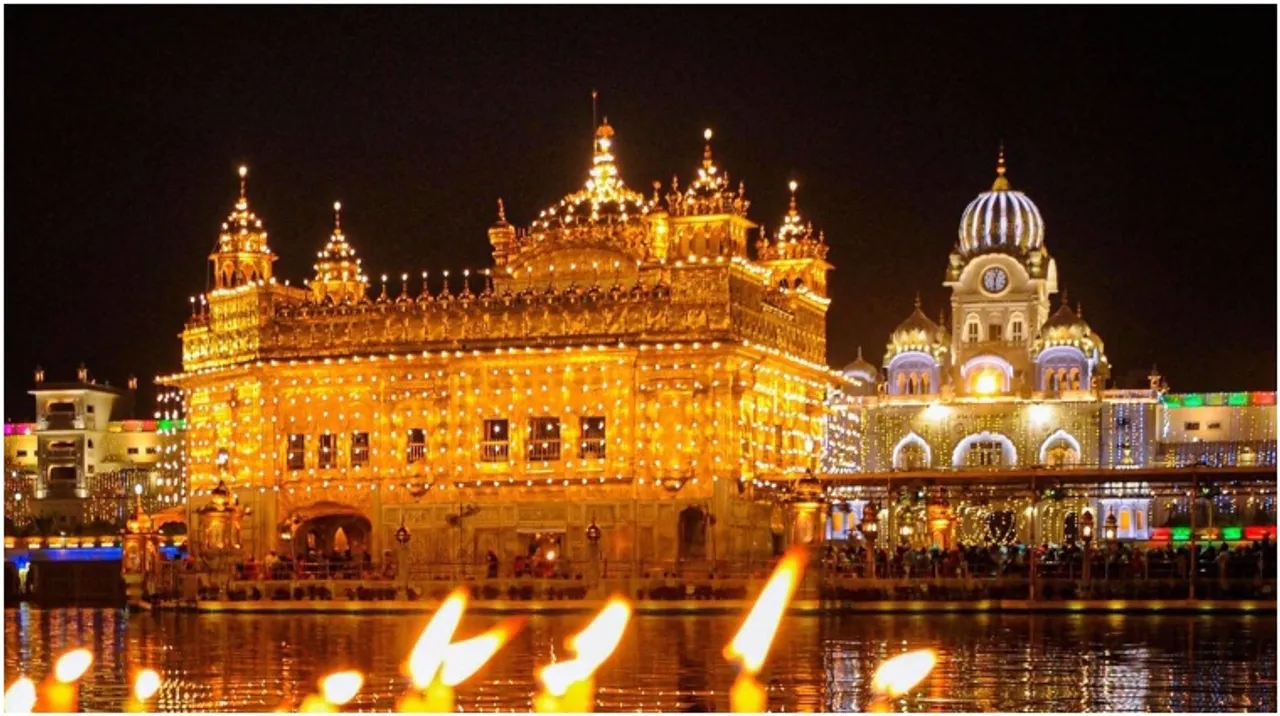 Around the auspicious occasion of the 550th Prakash Parv, the Punjab Government took a monumental step by ending gender discrimination. As a result, women will now be allowed to sing inside the Golden Temple Darbaar Sahib. The welcome change was another reason for netizens to share their joy in honour of Guru Nanak Jayanti.
The Punjab assembly unanimously passed a resolution urging the Akal Takht and the Shiromani Gurdwara Parbandhak Committee (SGPC) to allow Sikh women to sing hymns in the Golden Temple in Amritsar. As reported by India Times, the resolution came as a result of State Minister, Tript Rajinder Singh Bajwa, arguing that the gender discrimination involved was unjust. He reminded everyone that the founder of Sikhism, Guru Nanak Dev himself fought against caste and gender inequality. Bajwa even rejected a claim made by the Akali leader that according to the Sikh religious code of conduct, Sikh women are not allowed to perform 'Kirtan' at the 'Darbar Sahib'. The welcome change couldn't have come around a better time as today marks the 550th Prakash Parv which is celebrated as the Guru Nanak Jayanti in India.
Here's how netizens celebrated Guru Nanak Jayanti:
Glimpses from the 11th day of #550PrakashPurab celebrations at Sultanpur Lodhi. #550YearsOfGuruNanakDevJi #SultanpurLodhi pic.twitter.com/37uujwzGSH

— 550 Years of Guru Nanak Dev Ji (@550yrsGuruNanak) November 11, 2019
Punjab: Devotees gather at Ber Sahib Gurudwara, in Sultanpur Lodhi on the eve of 550th birth anniversary of Guru Nanak Dev ji. #GuruPurab pic.twitter.com/2Jb3iqYxJg

— ANI (@ANI) November 11, 2019
सतनाम वाहेगुरु #GuruNanakJayanti pic.twitter.com/TplHwszI1l

— Shweta Shalini (@shweta_shalini) November 12, 2019
3 AM at Bangla Sahib tonight, Guru Nanak Dev Ji's 550th Prakash. I've never felt calmer, happier or more serene in my entire life than I did in these few minutes, chanting Ik Onkar with a 1000+ devotees. You can feel his presence light up the room. #GuruPurab #GuruNanakJayanti pic.twitter.com/XTpJIGEdFC

— Aryan Grover (@Aryan_Grover) November 11, 2019
On #gurupurab Punjab Assembly breaks glass ceiling

The Punjab assembly took a significant step in ensuring equality in the Sikh clergy by calling for Sikh women to be allowed to perform kirtan (public prayer songs) at the Golden Temple in Amritsar.https://t.co/BoNPQVr8rL

— All India Mahila Congress (@MahilaCongress) November 12, 2019
Gurdwara Saccha Sauda, Chuharkhana Near Lahore.

Here Young Guru Nanak Dev Ji Fed Hungry People From His Money and Started Tradition of Langar #GuruNanakJayanti #Gurupurab pic.twitter.com/bY7VZ1F3G7

— indianhistorypics (@IndiaHistorypic) November 12, 2019
Sikh pilgrims carrying the golden Palki over their shoulders to visit Kartarpur Sahib.

The celebrations of #GuruNanakJayanti will be more festive this year, happy Gurpurab! #Gurupurab #GuruNanakDevJi #GuruNanak550 #KartikPurnima pic.twitter.com/ANIZsVaRWG

— Geetika Swami (@SwamiGeetika) November 12, 2019
The beautiful Golden Temple illuminated on #GuruNanakJayanti #gurupurab pic.twitter.com/lVC9d1VVPN

— Narendra Modi fan (@narendramodi177) November 12, 2019
#Gurupurab being celebrated inside the Golden Temple in Amritsar today. pic.twitter.com/gxoEu8lCSv

— Aditya Raj Kaul (@AdityaRajKaul) November 12, 2019
Happy #gurupurab ?? pic.twitter.com/OZ4UsfOYoo

— Sugar Cup? (@Sonia177sweet) November 12, 2019
"God is one, but he has innumerable forms. He is the creator of all and he himself takes the human form!" ~ Guru Nanak Dev ji

On this auspicious occasion of '550th Prakash Parv' of #GuruNanakDevJi, may we all showered with his divine blessings. Happy #Gurupurab to all ?? pic.twitter.com/R7l3rjjdhO

— Swami Brahmachitta ?? (@SwamiBrahmachit) November 12, 2019
Here's wishing everyone a blessed Guru Nanak Jayanti!