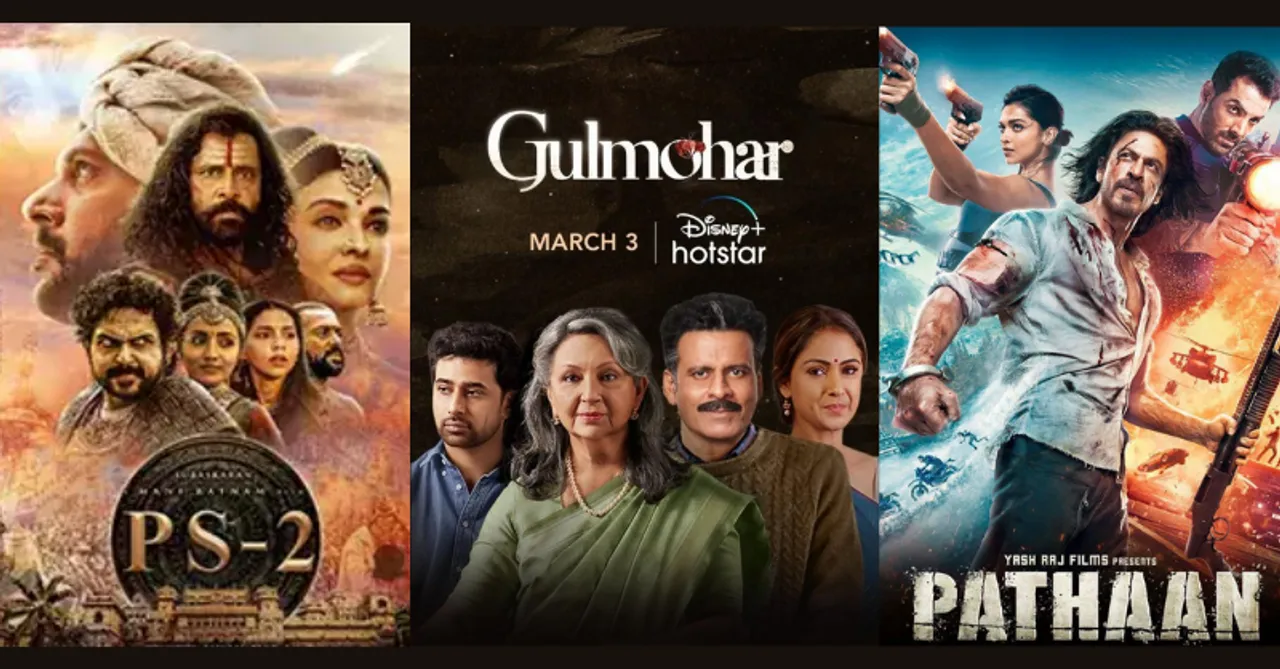 Besides how well-made some of these movies in 2023 have been so far, they also left us with something to think about!
So far, some movies in 2023 broke all records at the box office, others, in spite of a good cast, didn't perform all that well. A lot of releases were followed by tons of controversies too like people getting offended by dialogues, clothes or remakes of a song in a film. Pathaan soared high amidst all the backlash against Deepika Padukone's orange bikini and Adiprurush had way too many things going against it. Similarly, while there were films like Tu Jhooti Main Makkar, Zara Hatke Zara Bachke, and Chor Nikal Ke Bhaga that set out to say something unsaid, they couldn't successfully deliver their message across.
So far, these movies in 2023 left a lasting impact on us for more reasons than one
Pathaan (Amazon Prime Video!)
Pathaan was officially considered to be SRK's as well as Bollywood's comeback with a bang! As people were seen celebrating this film in theatres in mass numbers after a long time inspite of it being a commercial film. This action-packed and entertaining film had so much to offer! You can read the Pathaan review here!
PS 2 (Amazon Prime Video!)
This sequel was much awaited and had everyone's heart! It was a film equally beloved by people who read the literature as well as people who watched just the film. It was celebrated as a true pan-Indian musical film. This magnum opus was an enthralling experience to watch! You can read the Janta review here!
Gulmohar (Disney+Hotstar!)
Amidst all the mammoths, thrillers, and action-packed films, this sweet soul-rendering film was the rendition that everyone was craving! With its music, story, cast, and story it made everyone cry and smile. You can read the Gulmohar review here!
Kathal (Netflix)
A satirical comedy that made people laugh out loud while also delivering its social message in an impactful manner. It was a light-hearted watch that brought all the veterans of comedy back with a whole new bunch. You can read the Kathal review here!
Sirf Ek Bandaa Kaafi Hai (Zee5)
A film that led to a new form of revolution as it was released in select theatres after people demanded for it! Shouldered on by Manoj Bajpyaee's exceptionally beyond-talented acting, Sirf Ek Bandaa Kaafi Hai enjoyed massive success. You can read the Sirf Ek Bandaa Kaafi Hai review here!
Afwaah (Netflix)
This is one underrated film of the year that deserved much more appreciation than it got. In spite of it not being a massive success at the box office, it was a film of value that represented the present state of media and its hold on our lives! You can read the Afwaah review here!
Bheed (Netflix)
Another gem of a film that didn't earn much at the box office but told an important chapter about the recent history encapsulating the time of coronavirus and its struggles faced by different classes! You can read the Bheed Janta review here!
Bloody Daddy

(Jio Cinema)
A mindless and fun action film that felt like a combination of all of Shahid Kapoor's previous characters into one! People enjoyed it for its action sequence and unique story. You can read the Bloody Daddy review here!
8 AM Metro (theatrical release)
A highly underrated film that brought back Gulzar's poetry and an important chapter that must be told for mental health. You can read the 8 am Metrro review here!
The Song of Scorpions (theatrical release)
This film was a visual treat but more than that, it was one last chance to enjoy the maestro late Irrfan Khan on a big 70mm screen! You can read the Song of Scorpions review here!
Satyaprem Ki Katha (theatrical release)
A film that surprised everyone with its bold message considering it was a highly mass commercial film! Even though it had its flaws, Satyaprem Ki Katha was showered with love for its good attempt! You can read the Satyaprem Ki Katha review here!
2018 (SonyLIV!)
Amidst the Kerala Story controversy, 2018, another story based out of Kerala was missed out on. It talks about the floods of the state and its havoc!
Have we missed out on any movies in 2023 so far that you liked? Let us know in the comments below!
For more binge-centric content and reviews, follow us on @socialketchupbinge.