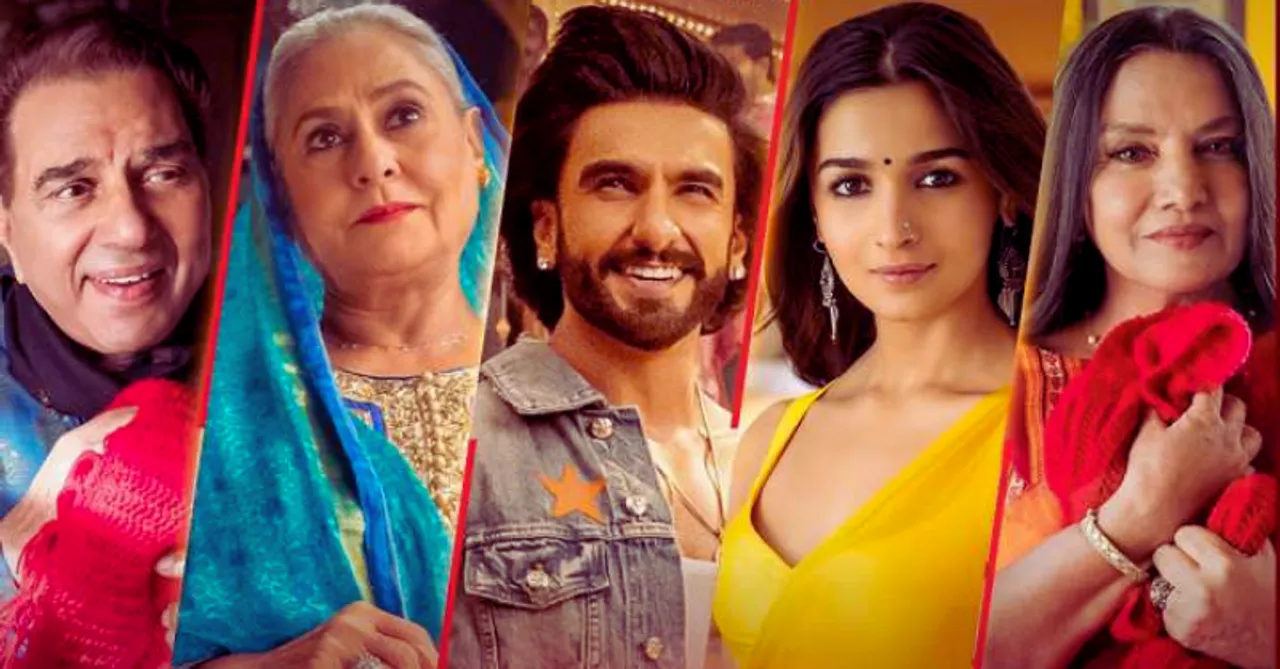 Rocky Aur Rani Kii Prem Kahani marks the return of the Bollywood masala family entertainer but with its refreshing approach, it has given the world much to talk about!
If you went to watch Rocky Aur Rani Kii Prem Kahani thinking it would be a film about boy meets girl, they fell hard for each other and fought their families to be together until they lived happily ever after, you were probably right! Because the film's trailer definitely gives off that vibe! But after watching the film, if you were completely surprised and it was not what you were expecting then you are in the same boat as everyone else. I guess that is precisely what KJo was playing at to reign people in on the feel of all things Dharma but also offering them something more that fits the modern bill.
We have all grown up on a heavy dose of Dharma films or what we call cliche Bollywood films where the main leads dance in the snow, run toward each other to profess their love, tons of family drama, and sometimes there's even some action to finally give us that happily ever after. RRKPR works on all these nostalgic points making your heart full but with a gender role reversal that leaves your conscience satisfied. The idea of a Bollywood beating heart having a moral conscience is what throws you off your balance as it wasn't what you were really expecting from the film. This is what makes you fall in love with what Rocky Aur Rani has to say!
Instead of male patriarchs, we have matriarchs who are not exactly free from patriarchy!
Jaya Bachchan's Dhanlaxmi is a compilation of characters played by Amitabh Bachchan from Mohhabtein to K3G. A true embodiment of pratishtha, anushasan, parampara who loves to have the last word, she says, "Keh diya na, bas keh diya!" It states that patriarchy isn't just limited to men but also transcends to females. Just like Shabana Azmi's Jamini who also was bound by patriarchy in her own way. The both of them didn't get what they signed up for from a marriage. While Jamini freed herself from those shackles, Dhanlaxmi channelised everything into being this powerful figure who ends up binding her son with ahankar instead of sanskar! And no matter how valid this reason might've been for her, the movie doesn't defend her. By the end of the film, she is shown as someone who realises her mistakes but is too proud to make amends.
Self-awareness of the film by touching on concepts like fat shaming, cancel culture, and stereotypes!
We all remember young Rohan's transformation into the handsome hunk in K3G and realised how problematic it was, only when we grew up. I guess it's safe to say that even KJo has grown up with us! Because to give Rocky's sister Golu a voice to stand up for herself against body shaming which usually starts from the family feels like an acceptance of realisation of mistakes made in the past. But the buck doesn't stop here. While men have been seen dancing freely in films and IRL, it's limited to certain dance forms. RARKPK also addresses this! So far, Kathak has been seen as a dance form predominantly pursued by women. But with Rani's father, Chandon Chatterjee wanting to learn Kathak from a young age and going at it against all odds with the support of his mother who doesn't believe that art has a gender, a new father figure emerges in commercial Bollywood. He doesn't mind sacrificing for his wife's career either. I mean, where do we get to see that? And seeing two men dance to Dola Re Dola? I was beaming with joy! Bollywood has come such a long way, indeed!
While talking about cancel culture, instead of making it a rant, Rocky's monologue is effective because given that he's portrayed as a character who isn't very well read or educated, we all judged him the same way as Rani or her family did and that's when he called us out on our bullshit! Like he said, if we keep on canceling each other so easily, no one will ever learn and grow up.
A main lead who we can resonate with
Rani seems like an amalgamation of Rocky's and her own mother. She is dressed in traditional and family-oriented values but also speaks her mind. She takes the lead in changing her would-be husband's house but when it comes to empowering them she makes them learn to stand up for themselves. She believes in two things - respecting elders doesn't equal to agreeing with everything they say and elders can't badmouth someone just because they're older. This resonates with everyone in our generation, unlike Naina or Anjali who transformed themselves to fit in!
Also Read: Alia Bhatt's saree looks are a captivating blend of tradition, style, pizzazz, elegance, and something for everyone!
A new romance paves the way
Irrespective of coming from opposite worlds, a hero is supposed to fall for the heroine and vice versa after a series of events where he pursues her. That is the Bollywood norm and old-school charm that we all love and crave for! But Rocky and Rani go from minor flirting to a full-blown situationship to relationship making it a romance set in the current era. Where Rani pines for Rocky and dances in the snow in imaginative scenarios as opposed to a hero doing this. Even the ageists will question themselves on seeing the old flame reignited by Shabana and Dharmendra beautifully!
RRKPK's co-incidental connection with Barbie
The film's connection with Barbie might be completely co-incidental but there is no denying that! Just as many film references, role reversals, and satire of the world play a part in revamping the story of Barbie, and Mattel and WB not leaving themselves out of the equation irrespective of producing it, Johar also does the same! His homage to YRF, SLB, Barjatya, and all those people who influenced him and us which includes himself get restructured as 'swaad wahi, soch nayi'. Bengali vs Punjabi translates to modern vs traditional which further translates to too progressive vs too regressive until all of it finds a balance and transforms to become Rocky aur Rani not Rocky vs Rani! And of course, Ranveer's Kennergy, and Alia's Barbie feel with her looks!
This is a really good coming-of-age film full of grey characters where a mainstream family entertainer rebels to find a deeper core and put the point forward of generational trauma and blood not being thicker than love.
For more binge-centric content and reviews, follow us on @socialketchupbinge.