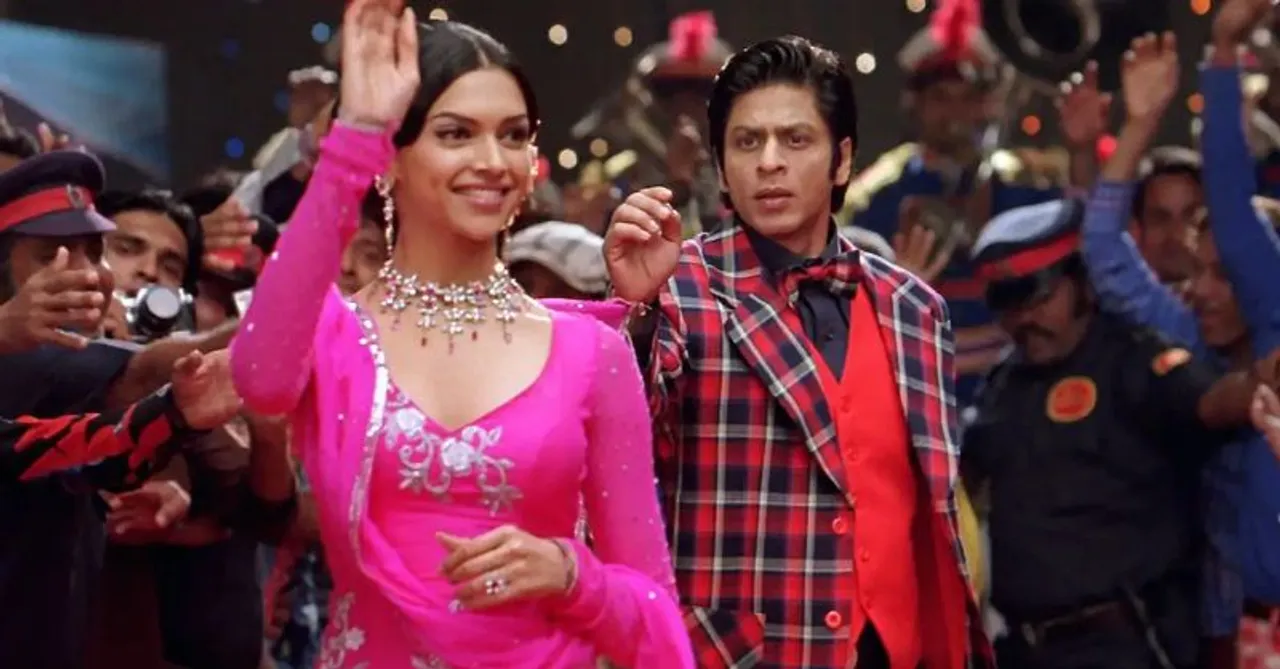 We are aware that the moon is a satellite! But to the romantics, it's our muse. Here's a look at how Bollywood songs represent the moon.
To nerds and academics, the moon is a satellite, a cosmic destination to be studied and reached. To the romantics, however, the moon is a lover, a friend, a gift, an essential character that beautifies their story. And Bollywood is nothing if not romantic! Gulzar, Javed Akhtar, Irshad Kamil, and many other lyricists gracefully blend Urdu and Hindi giving birth to romantic couplets as gentle as dew on a leaf. These lyrics are then sung by voices as sweet as a lover's laughter, and melodies that hit the exact yearning spot of your soul. In most of these songs, the moon finds a home in a lover's heart.
In Bollywood songs, the moon is sometimes right in the backdrop as the lovers pine but hesitate to reach each other. Who wouldn't want to fall in love when, as the lyrics of Ra.One's Dildara goes, "When the night is young, and the land is dark, and the moon is the only light"? Remember Dev Anand strolling in the mountains beneath a limitless sky teasing a shy Waheeda Rehman as Mohammad Rafi's voice echoes, "Khoya khoya chand, khula aasman, aankhon me saari raat jayegi, tumko bhi kaise neend aayegi?" The moon makes us yearn. As Kishore Kumar rightly sang, "Neele neele ambar par chand jab aayein, pyaar barsaye, humko tarsaayein." Shah Rukh Khan said the same in Dil To Pagal Hai, "Chand ne kuch kaha, raat ne kuch suna, tu bhi sun bekhabar, pyaar kar." Looking at all this yearning, how can the moon not blush? So, obviously "Chand chhupa badal me, sharma ke meri jaana."
Also Read: Margot Robbie's outfits from the Barbie press tour will go down in history as a pivotal era in fashion! 
Synonymous with 'The Romantics', Yash Chopra made an entire film named Chandni. In the Alps of Switzerland, Rishi Kapoor loudly sang, "Maine is dil pe likh diya tera naam, Chandni." After all, chand and its chandni are one of the most gorgeous cosmic miracles of the universe. Hence, Bollywood Romeos have been comparing their Juliets with chand every chance they get. Be it Shammi Kapoor singing, "Ye chand sa roshna chehra" or his grand-nephew Ranbir Kapoor singing, "Dekho chand aaya," as he spots his crush, in Sanjay Leela Bhansali's Saawariyan. Just like Guru Dutt looked at Waheeda Rehman lying in the moonlight and sang, "Chaudhvi ka chand (full moon) ho ya aftaab ho, jo bhi ho khuda ki kasam lajawab ho," in Devdas, SRK similarly looked at Aishwarya Rai, and sang, "Woh chand jaisi ladki is dil pe chaa rahi hai." But if we are being honest, the moon has got nothing on Rehman or Rai.
It is even more heart-warming when your lover calls you more beautiful than the moon. Nusrat Fateh Ali Khan's ghazal, "Mere Rashke Qamar" translates to "envy of the moon." When Om, in Om Shanti Om, first sees Shanti up-close, he is so madly in love that he sings, "Chand teri roshni ka halka sa ek saaya hai." Even in Brahmastra, you will see the face of the one you love when Shiva sings, "Chanda bhi deewana hai tera, jalti hai tujhse saari chakoriyan."
Kapoor's father once sang of the moon as a gift, "Duniya ki baharein tere liye, chand sitarein tere liye." while beside him, Tariq Khan sang, "Chand mera dil, chandni ho tum, chand se hai dur chandni kaha?" Recently Vicky Kaushal promised, "Tere vaaste falak se main chand launga." Before him, Imran Khan in Jab Mila Tu, sang, "Khaali jo raat ho, main khwaab chand taaron se woh puri kar du." But women have been demanding it forever. In Bol Na Halke Halke, Preity Zinta asked, "Dhaage tod lao chandni se noor ke." Simran, in DDLJ, stubbornly demanded, "Kar baitha bhool woh, le aaya phool woh, use kaho jaaye chand le ke aaye." Yes, we love jhumka and flowers, but once in a while, a moon would be nice. It's not unreasonable; Jupiter has 79!
Moon has also been an ambition. If you get the moon, you get the world. As SRK said, "Chand taare tod laau, saari duniya par main chhau, bass itna sa khwaa hai." And when we win the world, we say, "In haathon par main chand rakhu, is maang me bhar du taare." Sometimes, we feel so grand, that chand is simply trivial like when Lara Dutta in Billu Barber sang, "Taara chamkeela hoga, chand sharmila hoga, nath me laga lena," or Katrina Kaif in Jab Tak Hai Jaan sang, "Chand utha chal toss kare."
Apart from being a lover, chand has been a friend too. Hariharan gently crooned, "Chanda re chanda, kabhi to zameen par aa, baithenge baatein karenge," as if chand is a long-lost friend who hasn't visited him in a long time. Love need not be between lovers or friends only. We all remember our mothers lovingly singing poetries about the moon to us, "Chanda hai tu, mera suraj hai tu," and "Chanda mama door ke." Munna Bhai surely gave it a fun twist while complaining about the hustle culture, "Chanda mama so gaye, suraj chachu jaage, dekho pakdo yaaro, ghadi ke kaatein bhage."
A big part of love is vulnerability, and sometimes, loneliness. Chand has represented loneliness too with songs like, "Jab chandni dhal ke raaton pe chaati hai, teri yaad raise me dil ko tadpati hai." Remember that old song, "Chandni raatein, chandni raatein." Perhaps the one we relate the most with is "Chandaniya toh barse, phir kyu mere haath andhere lag de ne." However, I believe that nothing represents despair as accurately as the song, "Ik bagal me chand hoga, ik bagal me rotiyan," from Gangs of Wasseypur.
Lover, friend, shotgun, to us Bollywood romantics, the moon is everything. And as long as the moon exists, it will always be our favorite part of song lyrics and the universe.
For more such content, follow us at @socialketchup.