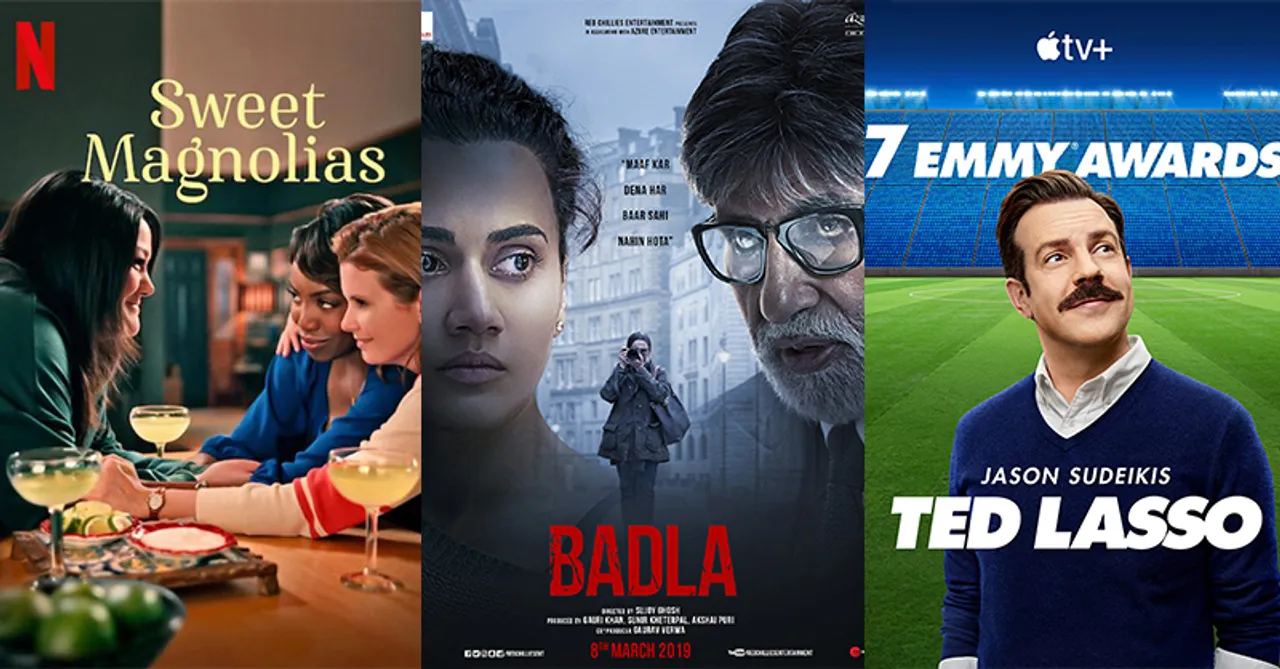 February was full of feel-good content for us in the form of underrated TV shows and movies like Ted Lasso, Safety, and Sweet Magnolias; we enjoyed slowing down with them!
With new releases week after week, we sure have ample content to stream but the pressure to remain relevant by being up to date with that new movie, that song that everyone is using on IG Reels, and that new word everyone is tripping on does start weighing heavy on our shoulders every once in a while. It's hard to match everyone step for step by keeping up with everything trending no? Especially on days when all we want is to wrap ourselves in a comfy blanket and watch something soothing like Ted Lasso or binge-watch a chick flick kind of show like Sweet Magnolias.
If you want to watch something underrated that you don't need to catch up on right this minute because FOMO can go take a walk in the park, here's what you can binge on whenever you find some time for yourself!
Have a look!
If you've grown up watching as much CID as we have, Badla seems fishy right from that first doorbell! Directed by Sujoy Ghosh, this movie doesn't give us anything we haven't seen before and feels a lot like Haseen Dillruba! While being the official remake of 'The Invisible Guest', a Spanish film, this version is rather frustrating with multiple versions of what really happened, a web of lies, and constant references to Mahabharata that aren't as deep as intended!
Directed by Reginald Hudlin, Safety centers on former Clemson University football safety, Ray McElrathbey's story where he secretly raised his 11-year-old brother on campus because of adversities on the home front. Today, football is a genre in itself because we have that many movies based on this sport alone. But rarely do you come across a biographical sports drama like this one that handles sensitive concepts like drug addiction, foster care, and broken homes with the softest touch, making this an extremely light watch. While this movie is about football, family, and fraternity, it also explores how it takes a village, sorry a team to raise a child!
You don't see your friends as often as you'd like and your problems are only getting more real the older you get. If you relate to this then Sweet Magnolias is made for you! Bringing Sherryl Woods' series of novels to life, this TV series is perfect for "I've had an exhausting week and I need a feel-good TV series to binge-watch". A relatively breezy show about three women navigating life after a divorce, workplace conflicts, relationships, and motherhood, Sweet Magnolias really is all about showing up for a friend whether it's a margarita night they need or some help in signing the divorce papers. Oh, and if you have dreamt of co-owing a business with your friends, then you're going to enjoy this one, for sure!
What looks like a sports-based TV series on the surface, Ted Lasso is really a TV series about life, and how easy it would be for folks to navigate their way through it with a coach like Ted Lasso. Developed by Jason Sudeikis, Bill Lawrence, Brendan Hunt, and Joe Kelly, this TV series on Apple TV+ is adapted from an NBC Sports ad from 2013 where Jason Sudeikis plays an American football coach with no knowledge about soccer and goes to England to coach a Premier League team, which is precisely the crux of this brilliantly executed sports dramedy.
Which of these have you watched already? Tell us your thoughts in the comment below!
Also Read: While What The Folks S4 is back with its usual charm and magic, something seems a miss
For more reviews, follow us on @socialketchupbinge