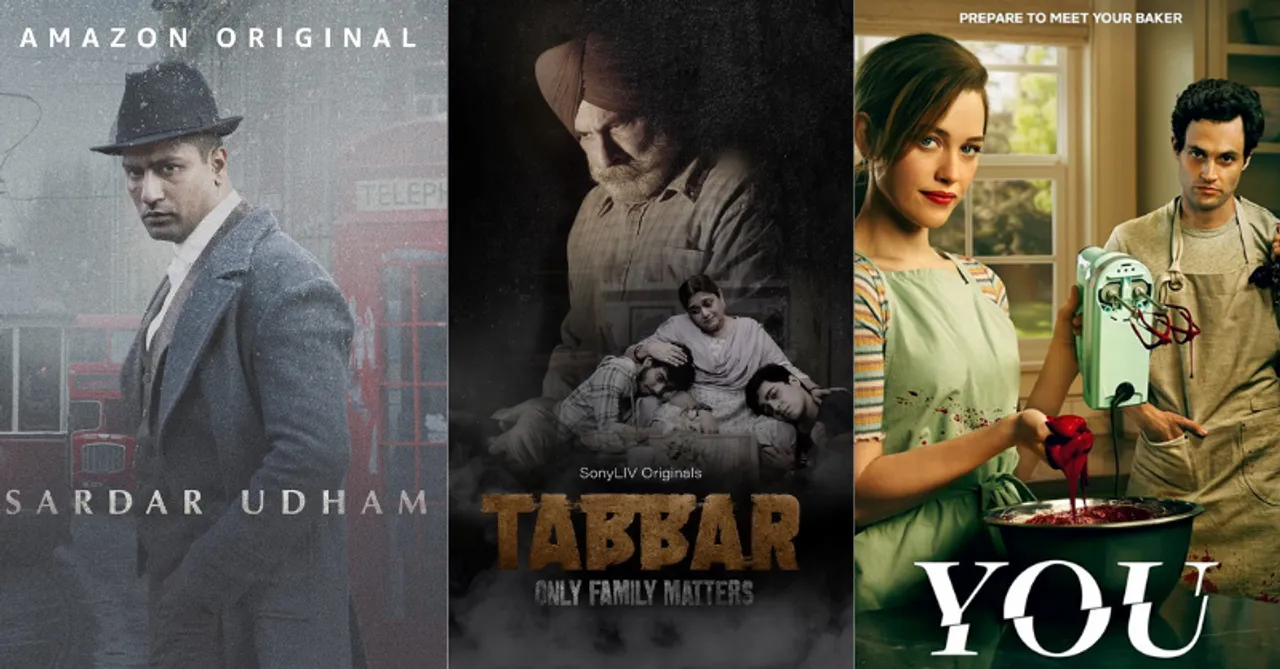 Here is what we think about Sardar Udham, Rashmi Rocket, Tabbar, Little Things S4, and all that we watched this October.
October kept us busy buzzing with festivities but so did OTT platforms, like Netflix, Amazon Prime Video, Disney+ Hotstar, SonyLIV, Zee5, and others. And since OTT platforms have become a part of our lives to whom we always run to so they didn't disappoint as well. They provided us with constant movies and shows that went on to curb our thirst for content during this festive season. While new movies like The Guilty, Sardar Udham, Rashmi Rocket were all the rage during the month there were also shows like Tabbar, Little Things season 4, YOU season 3. And we ended up watching all of this during the month.
Now you might have watched them all or you might have missed a chance upon a few so here is a compilation of what we thought of these movies and shows that might help you. And maybe after reading this you might wanna go ahead and watch some of these since now after the festive season has bid us goodbye we have some time on our hands to catch up with everything that we missed. So let's begin the binge review ride for the month of October!
MOVIES
When Udham Singh aka Vicky Kaushal tells a Britisher that the Jallianwala Bagh massacre is probably just mentioned in your books, as an Indian this hits you as well. Why? Because for most Indians, April 13, 1919, is a date we remember only for our history exams, not for the mass murder of hundreds of innocents that went on to ignite a fire of revolution. Sardar Udham by Soojit Sircar on Amazon Prime Video brings to life everything that happened during and after the Jallianwala Bagh massacre.
Gender Testing is an archaic test running from the 1950s that is designed to tell the difference between a male and female by checking up on the level of testosterone in the bloodstream. In sports, this test allows athletes to have an equal level playing field with each other. Rashmi Rocket currently streaming on Zee5 raises the issue of gender testing being used to ban female athletes who have higher testosterone levels irrespective of scientific evidence that it doesn't affect the performance of the athlete. While the film's intent is good and noble, it falls into the trap of a cliche Bollywood sports cum courtroom drama.
There is a very famous line 'everything is fair in love and war' and if there is a classic example of this stupid line that puts love and war both together it would be a typical Bollywood romance. No, we are not saying all Bollywood romance movies are bad, just the ones where the hero is toxic and psychotic as hell and justifies himself in the name of love. But in recent years with the advent of woke culture and OTT, we had happily packed away this toxic love in a box. But Shiddat is one such film that threatens to open that box once again and we will be happy if that remains closed for good.
Think that you're a 911 call operator and your job is to just listen to crimes all day long and help people with the best possible solution! But a crime comes the way that demands you to go above and beyond what your headset allows you to do and you have to make a decision since you can only listen to the crime being committed. What do you do in this situation to catch the criminal and save the person? Netflix's The Guilty starring Jake Gyllenhaal in its course of 91 minutes keeps you on the edge and makes you go through what a 911 call operator probably goes through.
TV SHOWS
Morality is a luxury that sometimes becomes unaffordable and far too expensive for a middle-class family to afford. And at that point, how far will you go in order to save your family and your loved ones? This is the basis of SonyLIV's new show, Tabbar. It's an eight-episode Punjabi and Hindi series that is poetic yet dark in nature. Against the backdrop of a drug addict in Punjab, it's a father's journey on keeping his promise to keep his family safe and well protected.
It all started with a YouTube sketch of how a couple behaves in a relationship and that culminated into a whole feel-good romantic series of four seasons. Little Things started with YouTube sketch-like episodes capturing the essence of those small little things that take place in a relationship and branched into something bigger season after season. It became a philosophical exploration in relationships dealing with existentialism, those important and abstract questions, being romantic together without forgetting 'me in we', and of course being super relatable to millennials. Little Things season 4 feels like it's mirroring Dhruv and Kavya's relationship as they figure out the next step in their relationship.
YOU season 3
YOU on Netflix is a series that in its most psychotic way makes you come to terms with your own dark self. Joe Goldberg is a highly toxic maniac but if we look closely he is not so much different than us. When we are busy judging him for his actions but he is quick to call us out on our own biases and judgments. Maybe the brilliance of the show lies in that even though the larger scheme of things remains the same in its narrative but its chilling narration calling us out of our own judgemental bubbles is what hooked us to the show. Though unfortunately, YOU S3 takes a long time to get its usual style and pace, hence falling a little short of the stature of its previous seasons.
What is your take on these movies and shows, don't forget to tell us in the comments below!
For more entertainment content follow us @socialketchupbinge