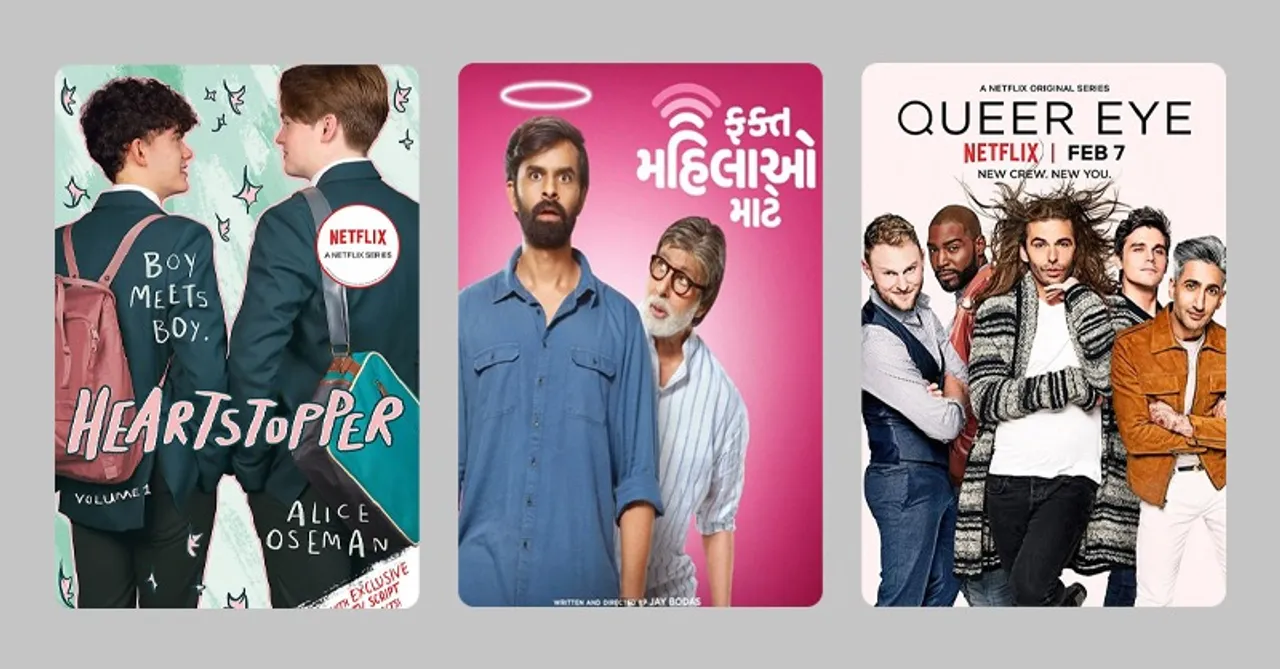 #LetsKetchup: There's so much to learn from all kinds of content and we realised that via these underrated movies and TV shows from 2022!
For someone who loves watching different kinds of movies and TV shows, it's a damn treat to be able to review content for a living! Seriously! As fun as it is to watch something in bed on a lazy day, I actually enjoy watching films and series for the story and different characters who I end up learning a thing or two from! While we've had some super successful blockbusters this year, it's underrated movies and TV shows from 2022 that have made the most impact on me!
Whether it was looking at 15 year-old Anita in Back to 15 and finding myself there, remembering my multiple breakups via Uncoupled, unlearning the guilt that comes with prioritising myself thanks to Queer Eye or feeling represented as a fat girl via Brittany Runs a Marathon, reviewing underrated content every Friday has taught me as much as it has entertained!
Check them out!
Father Christmas is Back - Netflix
What was meant to be a UK melodramedy with a fully stacked cast, Father Christmas is Back tries so hard to be eccentric, warm, and silly that it ends up being everything but! This film takes a ridiculously talented cast and gives them a crappy script, badly written characters, and an idea of a plot at best!
Your Christmas or Mine - Prime Video
For those of us who are suckers for Christmas movies, Your Christmas or Mine is a damn treat! It has all the makings of a cute holiday film you can watch over and over – the holiday spirit, hope, a gorgeous soundtrack, a well-rounded story, misunderstandings, a white Christmas, and a 'not your typical Hallmark movie' couple at its heart!
As much as I love a good Christmas rom-com, it's hard to watch one with no solid plot, little to no chemistry between the main leads, and no real conflict. Sure, Christmas movies aren't exactly known for their realistic setting, but the more aware we're becoming as a generation, the harder it gets to enjoy movies with no substance, holiday rom-com or not! And Christmas in Love falls in the same category.
Based on a true story that was initially published in the Wall Street Journal, this group of friends in Tag on Netflix is clearly having more fun than you are while watching them. A ridiculously talented and popular cast, a fun group of friends, inside jokes, and adults playing a childhood game, what's not to like? This movie sure has all the building blocks required for a comedy that also leaves you feeling warm but it just doesn't stick!
This American political thriller follows the life of a real-life serial killer, Charles Cullen who is believed to have killed over 400 patients throughout his 16 years of working as a nurse. While The Good Nurse has a serious tone right from the start, it doesn't quite show any depth. This movie has an eerie and serious tone throughout the film, even in parts where it isn't required, but it doesn't do much except scratch the surface.
This funeral dramedy template isn't unexplored in the least, especially one that explores complicated, abusive, and dysfunctional family dynamics and the impact they leave behind. But we haven't come across a ton of these that scratch anything beyond the surface because while this narrative looks easy, basing a story on the after-effects of abuse isn't everyone's cup of tea! Written and directed by Rodrigo García, Raymond and Ray is just another example of this!
Adapted from her 2015 bestselling novel of the same name, Jessica Knoll talks about pressing themes like gun and sexual violence, bullying, PTSD, gender, wanting to fit in, and peer pressure in Luckiest Girl Alive and we've rarely seen contemporary issues like these being handled skillfully in films before.
Most people don't understand the difference between hearing and understanding each other and that's what Fakt Mahilao Maate is all about. Directed by Jay Bodas, this family entertainer has all the makings of a great slapstick comedy – a 28-year-old man who lives with three women and struggles to understand them, a supporting cast with relatable problems, and character arcs, the solution offered which eventually becomes a problem and ridiculously witty one-liners that leave you laughing hysterically!
Just like Anita in Back to 15, I've wanted to go back in time with the things I know now and kick some ass as a 15-year-old. While that wasn't possible for me, it was for Anita and I'd hoped that this teen drama would've used this opportunity to provide Anita with the tools to understand herself better but just like 15-year-old Shachi, she was busy fixing everything, and everyone around her instead of looking within. This is literally what we go to therapy for today!
There is no 'will they won't they' plotline in rom-coms simply because these always have a happy ending and that's precisely what makes suckers like me watch chic flicks in the first place. Directed by Peter Hutchings, The Hating Game reminded me of precisely this! The palpable sexual chemistry between the leads, misunderstandings born out of triggers and personal baggage, and putting their egos aside to find their way back to each other, oh the predictability in rom-coms is what I live for!
A Hindi remake of a Telugu film by the same name, HIT the first case keeps you captivated if not at the edge of your seat by giving you the very many emotions of a Homicide Intervention Team officer who's driven by past trauma and frustration caused by reaching dead ends in a kidnapping case that also involves his girlfriend. PS. Keep an eye out for Shilpa Shukla in this murder mystery!
Chhappad Phaad Ke - Disney+ Hotstar
Vinay Pathak has this insane ability to portray the ever-changing human psyche with his body language alone and Chhappad Phaad Ke is yet another example of his brilliance. This satirical dramedy mainly delves into one of the biggest issues we face in India – corruption and showcases this via focusing the story around the time of demonetization, with a healthy mix of "ache din aayenge" and Swachh Bharat Abhiyan all while talking about Indian hypocrisy aka how quickly we change our beliefs when faced with inane amounts of money, no humans spared!
The start of Senior Year sounds like the story of every single infamous teenager who doesn't quite fit in for reasons unknown to them! Everything after that looks like British director, Alex Hardcastle is trying too hard to make 'fetch' happen! If you've watched 13 going on 30 and Mean Girls, Senior Year falls harder than the protagonist does in the first 15 minutes of the film.
'A stay-at-home dad taking a week off to rejuvenate and remember who he used to be' sounds like such a wholesome story, one you're waiting to unfold while you're rooting for him to figure it out, especially if you've watched one of your parents play that role too. What starts off rather well in Me Time, soon begins to highlight so many themes that it's hard to drive the underlying message home.
What seems like a simple story of a mom and her kids on the surface, Ginny & Georgia soon takes multiple dark turns in every episode, and I'm not complaining! Also, as a 30-year-old myself, watching Georgia, a 30-year-old mom struggle with communicating with her teen daughter feels far too absurd because I can relate to them both. So it's safe to say that this manic drama has so many layers that it's everything but boring.
If you've been dumped out of the blue, Uncoupled on Netflix will feel like 'getting your side locks waxed' kinda painful. Neil Patrick Harris lights up every show that he's a part of and Uncoupled is no different. The various stages of a breakup are depicted rather well in this series, making it the perfect 'drowning my sorrows in ice cream and Netflix' kinda watch.
Your parents forcing you to marry by playing the emotional card is a game, no sorry, a routine we are all too familiar with. Success will come and go, but a husband and kids are your 'forever', they say! Regardless of where you stand on the whole career vs. marriage spectrum, one thing is certain – today, we have a very low tolerance for bullshit, and that also applies to the content we consume. On a scale of 1 to 10, with 10 being the most annoying, Wedding Season surely hits it out of the park with its innate ability to force 'beta' at the end of a perfectly normal sentence just like mom and dad do when they're trying to make up after having said something atrocious and not addressing it.
It's almost as if we're afraid of women owning their sexuality! Why else is it so hard to make a coming-to-age film solely about a woman choosing when and to who she wants to lose her virginity? Seriously, women seeking pleasure can totally be the next theme for a comedy show because that's the only lens with which it's been portrayed in mainstream cinema like in Indoo Ki Jawani!
Love above everything else sounds so simple, no? Living in a metropolitan city, we don't quite realize the privilege we carry when we have basic everyday arguments with mom and dad about wanting to date someone who doesn't belong to the same caste as us. Because not once during any of those arguments do we have to worry about violent opposition from family and society. Directed by Shanker Raman, Love Hostel is a thought-provoking film that talks about bigotry and its after-effects in Haryana mixed with dirty politics in the name of upholding tradition.
My Fake Boyfriend - Prime Video
Getting back with a toxic ex over and over because you can't help yourself – this not only sounds familiar but hits below the belt, tbh. But unlike our protagonist, Andrew, in My Fake Boyfriend, I actually went to therapy thanks to the massive push my friends gave me. And boy, did it change my life forever! Usually, I'm all for 'keep your brain aside and watch' kinda content, but in an age of self-care finally being front and center of literally every single piece of communication by brands and people alike, this just doesn't feel hilarious. In fact, if any of us were Rafi, this would be horrifying, and we'd take a while to recover from it!
The Man From Toronto - Netflix
There's no doubt that The Man From Toronto is funny! Leads like Kevin Hart and Woody Harrelson playing off each other in an action-comedy followed by a comedy of errors? Come on, I'm not made of stone! But the rest of the film is a snoozefest for more reasons than one
First Kill is your modern-day girl meets girl, sparks fly in the air kinda story until you realize that one is a teen vampire while the other comes from a family of vampire hunters! What stands out the most about First Kill is LGBTQIA+ representation, IMO! It's not every day that you see a lesbian relationship onscreen.
The Boys in the Band - Netflix
An Upper East Side psychodrama based in 1968, The Boys in the Band brings you a riot of emotions with self-hate at the front and center for most of these characters while it shows you how far we have come regarding LGBTQIA+ issues and their portrayal onscreen. But its narrative of most homosexuals being filled with copious amounts of self-hate is up for debate given that it doesn't talk about the reason behind it at all – society. With stellar performances, this 2020 film needs to be watched simply for its cast of entirely openly gay actors which provides the queer community with some much-needed representation.
Directed by Myriam Aziza, 'To Each, Her Own' had a brilliant plot but it's ridiculously problematic for more reasons than one! For any rom-com to work, the film needs heart first and foremost, and this French farcical rom-com, Les goûts et Les Couleurs aka 'To Each, Her Own' doesn't make you feel anything. It ends up sounding superficial and doesn't delve deeper into the protagonist's confusion regarding her sexuality, which is what the entire film is based on!
A significantly autobiographical show about a twenty-something gay man with cerebral palsy, Special is adapted from Ryan O'Connell's 2015 memoir 'I'm Special: And Other Lies We Tell Ourselves' and at its core, it's really a TV series about finding yourself. It's filled with tons of goodies across both seasons but its shockingly frank portrayal of gay sex, your disability being reduced to a fetish, and losing your virginity to a sex worker is handled so tastefully that it's beautiful.
Adapted from the graphic novel series of the same name, Heartstopper on Netflix is an emotionally aware piece of art, seriously! This eight-episode series shows you so many aspects of young love, friendship, and the torture that comes with being a teenager in high school, let alone a queer individual in a same-sex school! Heartstopper has pulled out all the stops on this masterpiece with its music, casting, direction and storyline. Euros Lyn could not have done a better job!
Also Read: #BingeRewind: Movies of 2022 that were entertaining delights!
A Danish Netflix Original, F*ck Love Too is a sequel to the 2019 film, F*ck de Liefde where three love stories are introduced! And this sequel bites off more than it can chew with Lisa's love triangle, Bo's rocky relationship with Said, Lisa's ex-husband, Jack, fathering babies with two different women, Angela falling for a man she slept with who is secretly a hooker, and Kiki having cold feet before her wedding! Did you lose track? Well, we don't blame you!
A French follow-up to the 2012 French-produced buddy-cop action-comedy, On the Other Side of the Tracks, The Takedown feels like the perfect fit for mediocre television given the half-baked storyline, unbelievably naive protagonists, and a rather poor attempt at satire in this genre! This film attempts at paying homage to 80s classics like Lethal Weapon but turns out to be a lot less interesting than it thinks itself to be!
Watching a 3 generation Cuban American family deal with life while being deeply invested in each others' lives feels like you're right back at home. This series is a warm and empathetic family sitcom that's dedicated to showing you how families can hold space for different perspectives when faced with conflict.
An overbearing mom or a smothering one who won't meet you halfway, as Indians, we've learned to deal with 'em mothers by setting boundaries, explaining things time and again, and fighting for what we want, all to no avail. That's the deal with mothers; we love them, we hate them, we can't live without them! More importantly, over time, we start to see them for the individuals they are, which makes it possible to empathize with how hard this journey is for them. And Otherhood captures all of this throughout its 1 hour 40 minutes.
Directed and edited by Richard Wong, and inspired by the life of Asta Philpot, Come As You Are is largely focused on the narratives of disabled people instead of telling this story with a lens of guilt and pity and that's what makes this seriocomedy so beautiful and easy to watch!
In its attempt of making a social statement, Windfall doesn't give names to any of the characters which is quite frankly extremely annoying because it keeps you from connecting with any of them. As hard as Jason Segel, Lily Collins, and Jesse Plemons try, Windfall doesn't give them enough meat to chew onto.
Finch tells a rather simple story of a man, his dog, and an android who talks, grows, and learns, surviving on the remains of a post-apocalyptic Earth in the hope of finding a new home. But at its heart, this film is about an android understanding human experiences like friendship, love, life, how to take care of his creator's dog and what it means to be alive!
Created by David Collins, Queer Eye talks about how to live your best life with the help of 5 queer people aka the Fab Five who work on helping every nominee see what they're unable to see for themselves and teach them everything about self-care by covering different areas of their lives that they need help with. Think of Queer Eye as MTV's 2004 American television reality show, 'Pimp My Ride' but for your heart and soul. Caution: If you're not used to strangers being kind to you, you will end up crying throughout this series!
Brittany Runs a Marathon - Prime Video
Inspired by the story of a real runner, Brittany O'Neill, Brittany Runs a Marathon feels nothing less than my story! And if you're unlearning shame and unpacking emotional baggage, then it's your story too! While transformation videos look so appealing, putting in the work feels extremely hard because it requires you to show up for yourself every single day! And that's a lot of work when you struggle with low self-esteem. Brittany Runs a Marathon is for anyone who doesn't live by the book and struggles with 'finding yourself'.
I have yet to come across a person who didn't question everything in life after being dumped! Living in denial, plotting to win them back, and endless nights of sitting with a tub of ice cream and crying over what could have been, seriously, breakups are the worst! Ugh! Directed by Jason Orley, this yet another break-up centric rom-com is rather sweet and sensitive unlike most films from the same genre and while its premise is based on manipulative ways to get an ex-partner back, it portrays healing from a broken heart in the most subtle manner.
When we think of a person over 70, we usually picture a wise old owl distributing pearls of wisdom with a cane in one hand and a holy book in the other. Well, Grace and Frankie are not like this at all! These 80 somethings resemble you and me really, clutching onto a martini while they figure their lives out. 7 seasons of this dramedy are proof that old age is not a pre-death death sentence, instead, it looks every bit like the glorious mess that our lives currently are.
Directed by Felicity Morris, The Tinder Swindler feels like living the nightmare that our parents told us we'd experience if we ever set foot on a dating app or trusted somebody we met on the internet! It focuses on how a conman breaks apart human beings, by forever leaving them in debt and skeptical to humanity instead of how brilliant his con really is!
What looks like a sports-based TV series on the surface, Ted Lasso is really a TV series about life, and how easy it would be for folks to navigate their way through it with a coach like Ted Lasso. This series is adapted from an NBC Sports ad from 2013 where Jason Sudeikis plays an American football coach with no knowledge about soccer and goes to England to coach a Premier League team, which is precisely the crux of this brilliantly executed sports drama-comedy.
Bringing Sherryl Woods' series of novels to life, this TV series is perfect for "I've had an exhausting week and I need a feel-good TV series to binge-watch". A relatively breezy show about three women navigating life after a divorce, workplace conflicts, relationships, and motherhood, Sweet Magnolias really is all about showing up for a friend whether it's a margarita night they need or some help in signing the divorce papers. Oh, and if you have dreamt of co-owing a business with your friends, then you're going to enjoy this one, for sure!
Today, football is a genre in itself because we have that many movies based on this sport alone. But rarely do you come across a biographical sports drama like Safety that handles sensitive concepts like drug addiction, foster care, and broken homes with the softest touch, making this an extremely light watch. While this movie is about football, family, and fraternity, it also explores how it takes a village, sorry a team to raise a child!
If you've grown up watching as much CID as I have, Badla seems fishy right from that first doorbell! Directed by Sujoy Ghosh, Badla doesn't give us anything we haven't seen before and feels a lot like Haseen Dillruba! While being the official remake of 'The Invisible Guest', a Spanish film, this movie is rather frustrating with multiple versions of what really happened, a web of lies, and constant references to Mahabharata that aren't as deep as intended!
Inspite of being directed by 11 different people, Chesapeake Shores is spread across 6 very soothing seasons. It's based on Sherryl Woods's series of novels by the same name and has an extremely idyllic vibe! A small town near a water body, a big dysfunctional family navigating their way through past trauma and tragic relationships, a beautiful soundtrack and a gorgeous bunch of O'Briens make this series just so watchable!
Written and co-produced by Mindy Kaling, this masterpiece is so refreshing with its almost free-of-drama screenplay even while talking about sexism in broadcasting during the #MeToo movement and gives us sheer brilliance in the form of Emma Thompson and Mindy Kaling! Late Night reminds me of Ugly Betty in the nicest way solely because of chemical plant worker turned comedy writer, Molly Patel who's all about fixing what's broken in ways only she can.
Aranyak is a small-town crime thriller that isn't looking to make a statement, and that's precisely why it works so well! It's a simple jungle-based horror story coupled with politics and corruption divided into 8 episodes, each ending with a cliffhanger that leaves you engrossed throughout. Set in a fictional town called Sironah in Himachal Pradesh, it follows Raveena Tandon and Parambrata Chatterjee on a wild goose chase of a murderer, rapist, and a half-man half-leopard creature according to folklore.
It's true, criminal justice in India looks an awful lot like a joke in a lot of matters but we're not sure what Chehre is mad about in spite of spending a majority of the 2 hours 19 mins in monologues about the concept of justice, the Delhi gang rape, acid attacks and terrorism in India and 'Chehre'. Starring Amitabh Bachchan, Emraan Hashmi, and a bunch of extremely talented actors, this movie sounds great on paper but simply drags onscreen.
Which of these underrated movies and TV shows from 2022 have you watched already? Tell us in the comments below!
For more recommendations, follow us on @socialketchupbinge